*FTC Disclosure - If you make a purchase through a link on this site, we receive a small commission at no extra cost to you.*
Bamboo Robe - The Style That Makes Us Feel Great

Bamboo Robe - Modern, luxe, and eco friendly, bamboo is an amazing fabric that has taken the world of lingerie and sleepwear by storm. With a smooth touch that's similar to silk, bamboo is super soft and a great choice for anyone who enjoys the finer things in life.
Whether you're looking for a cool and effortless women's robe to slip over your bras, panties, and other lingerie favorites, or a simple, comfy everyday option that offers an easy, relaxed fit, this popular robe is definitely worth checking out.
Read on and discover why so many lingerie enthusiasts crave this Love-of-Lingerie favorite.
---
Bamboo Robes Are Perfect For Year Round

These women's robes are easily one of the best choices for year round wear. Bamboo robes are soft, lightweight, and always comfortable, no matter what time of year it is.
Because it is a natural fibre that breathes and is more absorbent than cotton, bamboo helps to regulate body temperature. It will never feel hot or sweaty during the warm summer months, unlike other fabrics.
Comfy and cozy, with a feeling similar to the softness of cashmere, bamboo is known as a non-irritating fabric, which makes it a great tonic for sensitive or delicate skin. 
There's no need to own a closet full of different robes for each season when you can snag one easy style - a bamboo robe - that works for you year round.
---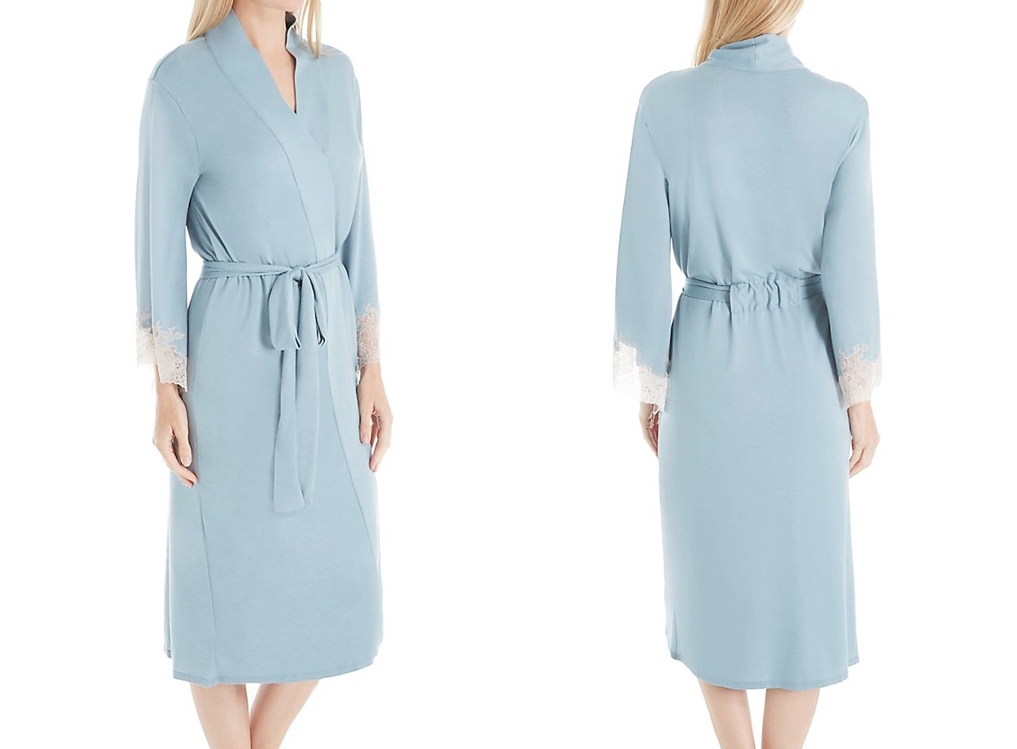 Natori
---
These Robes Are A Great Travel Companion

Whether you like to pack and fold meticulously or prefer to shove your clothes into a duffle bag, a bamboo robe is the perfect pick that always comes out looking great.
We love the wrinkle resistant fabric that's forgiving of even the most over-stuffed luggage.
Another travel bonus is how lightweight and compact a bamboo robe is, so you can tuck it into your bag and have plenty of room for your other items.
For today's busy woman on the go who wants to look chic and polished no matter where in the world she travels, a chic bamboo robe is a must-have for the jet set lifestyle.
---
Fleur'T
They're The Most Versatile Sleepwear

It's easy to go from morning lounging to boudoir beautiful in this versatile sleep wear favorite that has the ability to morph into any look you want.
While sheer robes are stunning and perfect for warmer climes, and chenille robes are snuggly and ideal for colder climes, the bamboo robe is a magic multi-tasker that can do it all.
Because it's not too thick or bulky like heavier velour robes, it looks amazing over beautiful chemises, slips, bras, bustiers, and teddies - you name it.
On the the flip side, bamboo isn't skimpy and see through - which makes it a great choice when you're in the mood for a little more coverage and comfort.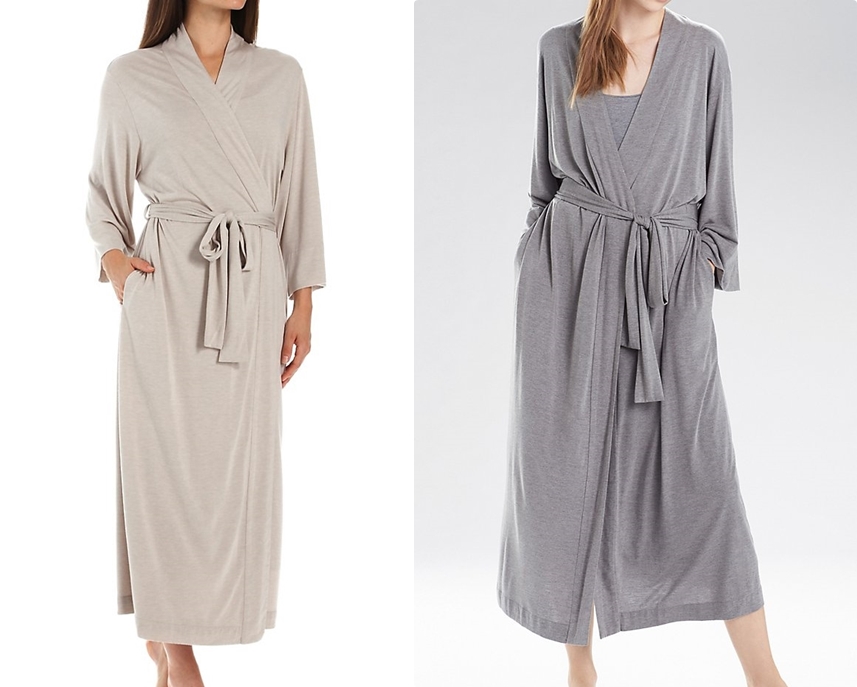 ---
Bamboo Fabric Is Amazingly Comfortable
There are times and seasons where traditional terry cloth robes are too stiff, silk robes are too slippery, and satin robes are just too chilly.
The one fabric that's always right is beloved bamboo. It's stretchy, smooth, easy to move around in, and soft to the touch, making you feel like you're wrapped in a cloud of comfort.
At the end of a long day when you're looking for a relaxing slice of heaven, a bamboo robe is the perfect style to slip on for a feeling of pampering and pleasure.
You'll love the way it feels so much - don't be surprised if it quickly becomes your favorite go to piece in your lingerie collection.
---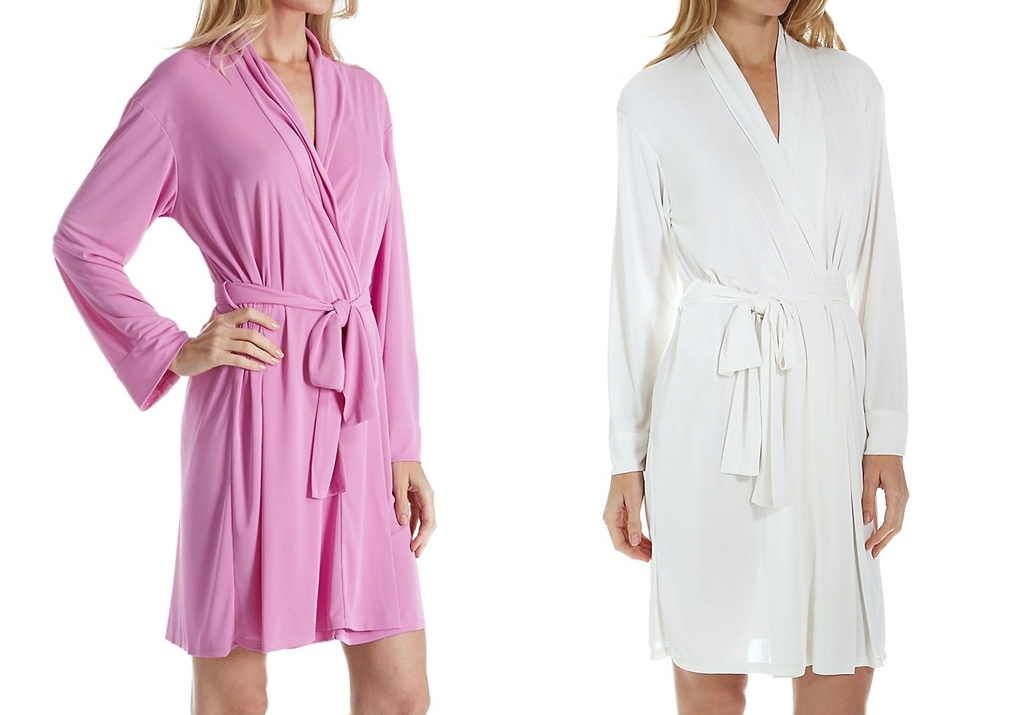 ---
The Robe That Flatters Every Shape
Finding the right robe that flatters you silhouette can be tricky at times.  Bulky womens fleece robes can overwhelm petites, while slinky satin robes can cling in all the wrong places.
A bamboo robe is universally flattering, no matter what your shape.  From petites and plus sizes to curvy and angular silhouettes, these luxury robes fall softly over the feminine shape without adding any extra weight to your frame.
Easy and effortless to wear because you always know that you look great, no matter your shape or size.
---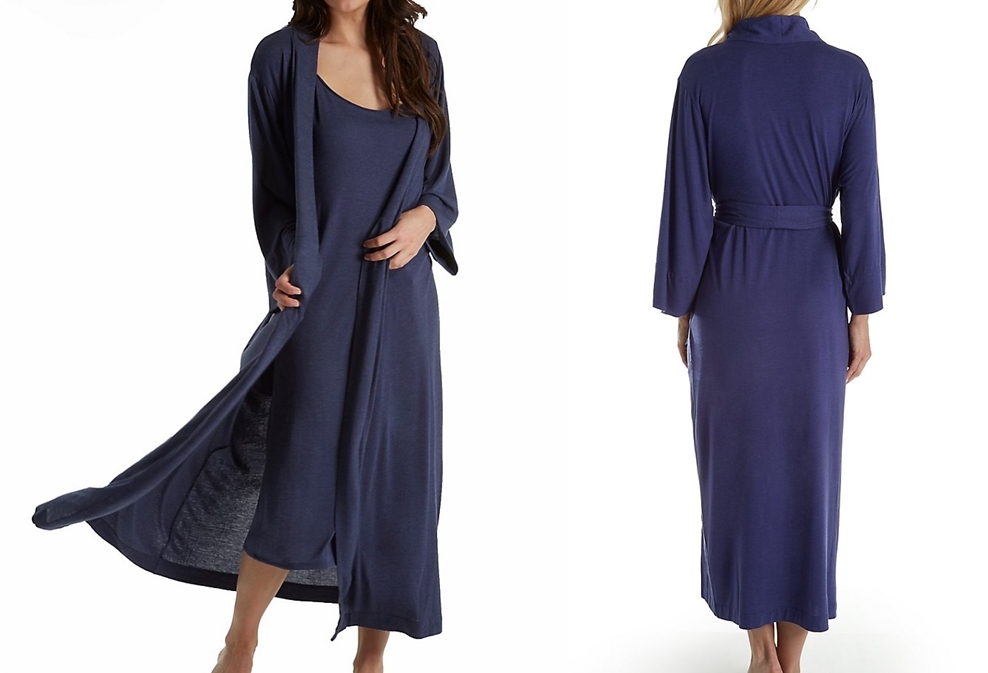 Natori