*FTC Disclosure - If you make a purchase through a link on this site, we receive a small commission at no extra cost to you.*
Backless Bra - 5 Signs It's Not The Best One

The backless bra is without a doubt one of the hardest working styles for sexy dresses, chic tops with statement straps, and complicated necklines.
Often called a longline bra, it's available in a variety of different styles, and is designed to offer support in all the right places with a smooth and seamless silhouette.

The good news? There's always good news with beautiful lingerie! Backless bras are a versatile addition to any lingerie collection.
The not-so-good news? It's really not that bad. These types of bras are not a one-size-fits-all style.
To help you sort through the sometimes tricky terrain of these specialty bras, here, we share some valuable tips -
the top criteria for nailing this style
the most common mistakes that are made

and most importantly, how to avoid them

You Can See Your Backless Bra Under Your Clothes!

Some bras are too pretty to hide, and letting them peek out from your clothing is a sexy style secret that adds extra allure to your look - but the backless bra isn't one of them.
The whole point of this style is to become completely invisible so that your clothing can take center stage.Think of a backless bra as the invisible support, there to make you shine.

Cups that don't lie flat
Underwire that doesn't fit properly
Styles that aren't cut low enough in the back

...are all indicators that your bra just working.
You might have to try on several different backless styles to make sure that you get the perfect fit and cut to meet your needs. Be patient. Investing the extra time while shopping for your bra is totally worth it when you can slip it on and forget about it.
Lumps, Bumps, And Rolls...Oh My!
Go too loose and your bra won't stay on, but trying to over compensate with an extra snug fit is a recipe for style disaster.
A tight bra fit guarantees that your bra will stay on, but it also means that you'll be stuffed and squeezed into a piece that's too small, which causes unsightly lumps and bumps across your back, on your sides, and even under your arms.
These rolls and bulges will do nothing for your figure, outfit, or confidence and need to be banished ASAP.
The best way to avoid them is to find a perfectly fitting backless bra that is snug enough to stay put without squeezing the life out of you.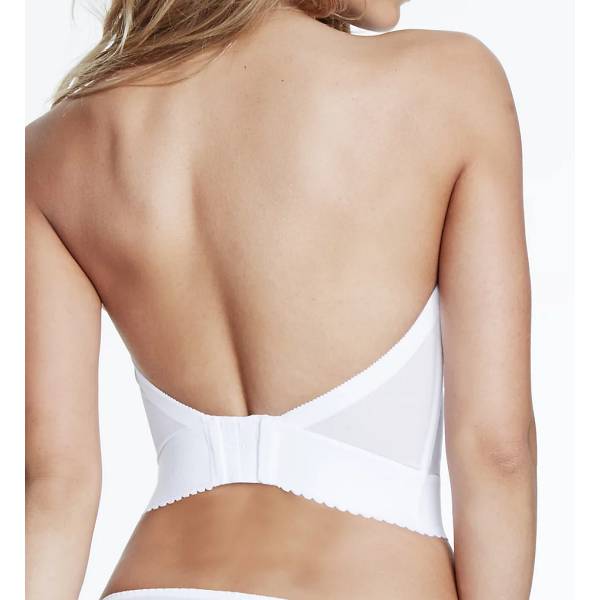 Your Bra Is Falling Down
When you try to take off a backless bra that's too big for you, you'll quickly regret it. Nothing is more distracting than a woman who's fussing with her lingerie and spends the night hitching up her bra and adjusting her clothing.
That's why it's so important to make sure to move around in the fitting room A LOT when you're trying on bras:

Bend over to make sure you don't pop out of the cups
Pretend to wave to a friend across the room to check that the sides don't slip down
Bust out a few dance moves to make sure you don't become over exposed in a bra that falls off
You might feel a little silly at the time, but not only will it save you constantly struggling with your bra, you'll also burn a few calories, so you can indulge in that yummy dessert. It's a win-win situation!
                                 Beautiful Lingerie Tip

Since you'll probably own one or two of this bra style, opt for  one that matches your skin tone to maximize wearability.
Women who are fair skinned should look for a backless bra in a cream, nude, or tan shade. Women with darker complexions should choose a tan, coffee, or darker shades. 

Bra Cups That Spill Over....Oooops

The best bras need to fit around the bodice as well as in the cups. Cups that are too small will be spilling over the top and sides.
While an ample bosom is ALWAYS sexy, a wardrobe malfunction with you falling out of your cups is not a look that any woman wants.
Keep your silhouette smooth and stay comfortable in a comfy bra that gives you the cup coverage that you need, instead of squeezing your breasts to the point where they pop out.
How To Avoid Peek-A-Boo Brassiere Problems

Your bra should disappear completely under your clothing. How to do that? Here are a few quick tips:
#1 must: the correct bra size
Opt for a color that doesn't show through your outfit
Black and nude or skin tone shades are your best bet for versatility
Sleek, seamless microfiber cups guarantee a smooth look.
Avoid mesh, lace, and quilted cups that will only compete with your clothing and create an uneven silhouette