*FTC Disclosure - If you make a purchase through a link on this site, we receive a small commission at no extra cost to you.*
The Miracle Adhesive Bra - What You Need To Know
Adhesive Bra - Whether you're wearing barely there summer tanks or strappy cocktail dresses, this option is a must for any modern wardrobe.
It's strapless, backless and virtually invisible under anything you choose to wear, which gives you enormous freedom of choice and dependability.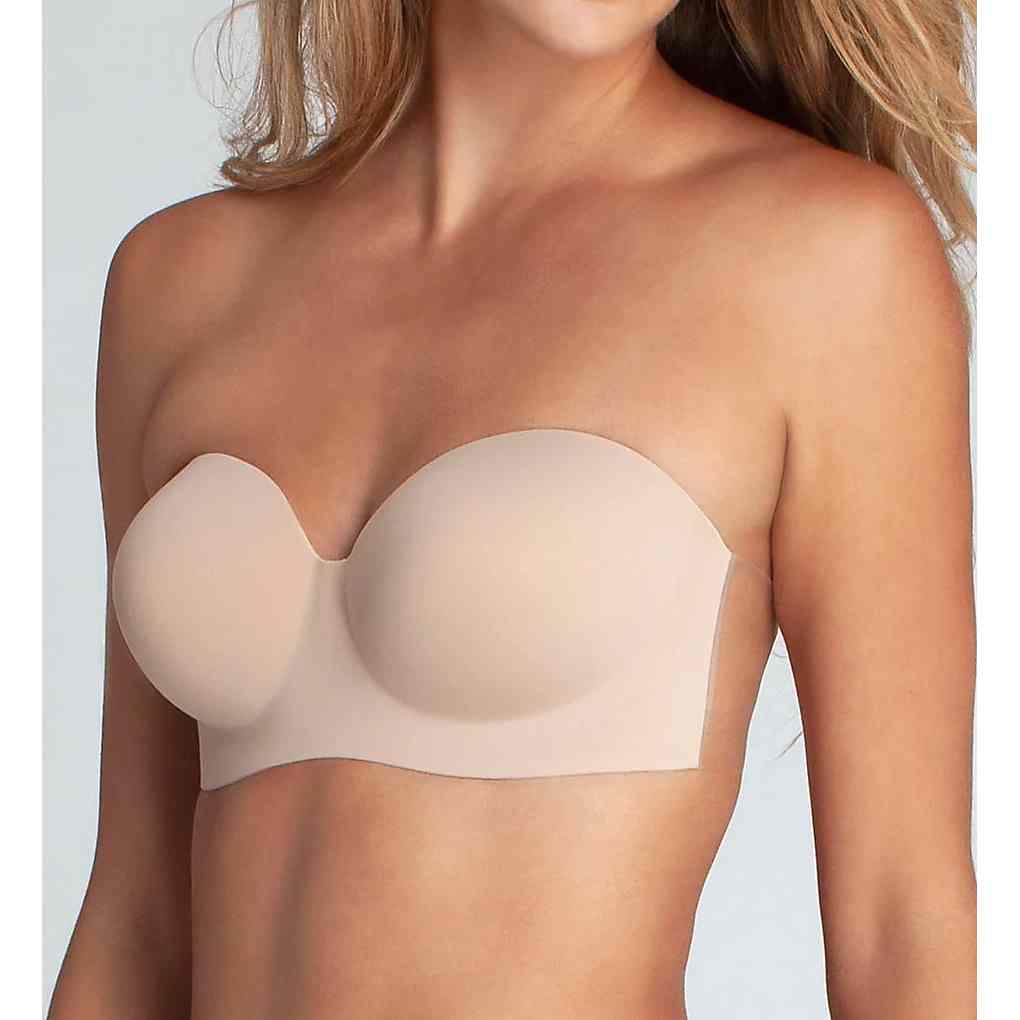 If you're new to this specialty style and a little unsure, no worries! We'll show you how to shop for it, what to look for (and not), how to wear it, and embrace this lingerie drawer essential.
 Adhesive Bra Tip: One Size Does NOT Fit All

Adhesive bras come in a variety of shapes and forms, and many styles offer specific cup sizes that correspond with your usual bra size.
Steer clear of one-size-fits-all styles, unless you're an average size. Petites and plus sizes will especially benefit from being able to choose their cup size.
 Prep For These Types of Bras

Avoid a mortifying wardrobe malfunction when you prep your skin properly and guarantee that your bra stays in place.
Start with clean, dry skin, and avoid any body oils or lotions that interfere with the adhesive surface. Keeping the area clean and dry will ensure that your bra sticks to your skin in the best way and will stay put as you move through your day.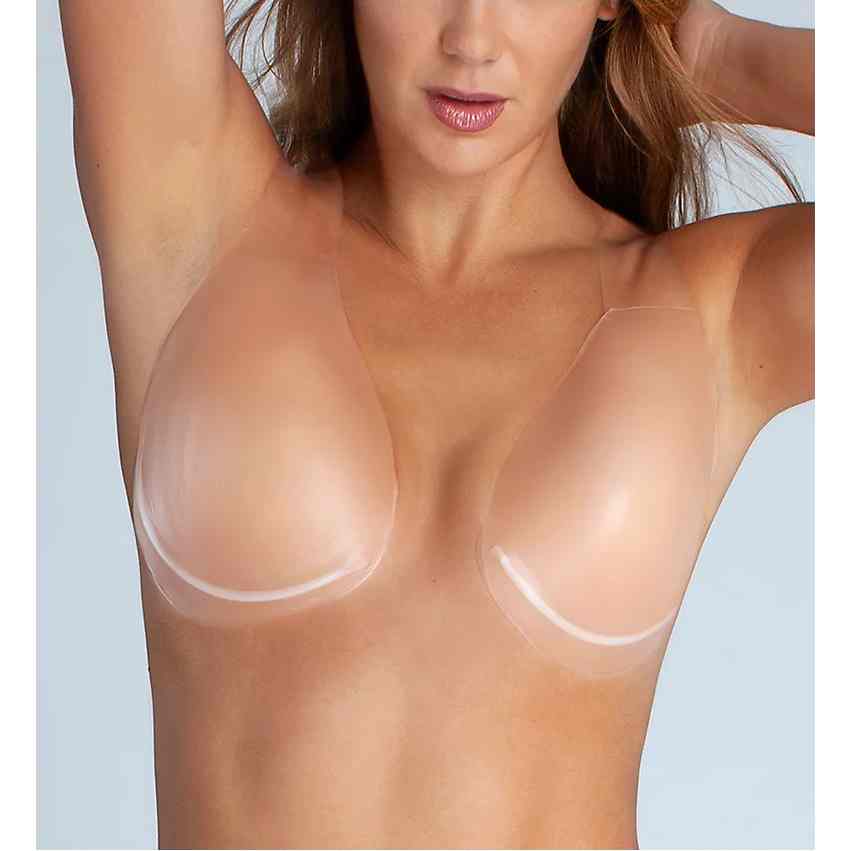 Decide On Single Use Or Multi-Wear Bras

Not all adhesive styles are created equal. Some are like stickers, meant to only be used once before they lose their stickiness and can't be reused.
Others have more of a silicone texture that grips to the skin.
Bras of this type can be washed in gently in mild soap and water and be worn again and again. Assess your needs and choose the type of adhesive bra that works for what you want.
Style Secrets

Self sticking bras are available in sizes A through C, 32-38. 
Some manufacturers like NuBra, featured on the Oprah Winfrey show are beginning to sell a lighter version with straps for D cups.
 Bring Your Clothing With You

If you have a specific top or dress that you are buying this specialty bra for, bring it along with you when you shop, or snap a photo to have on hand.
Many adhesive styles are pre-packaged and aren't available to try on in stores, but you can show the sales person at your lingerie boutique what you want to wear and they will be able to match you with the perfect bra for your needs.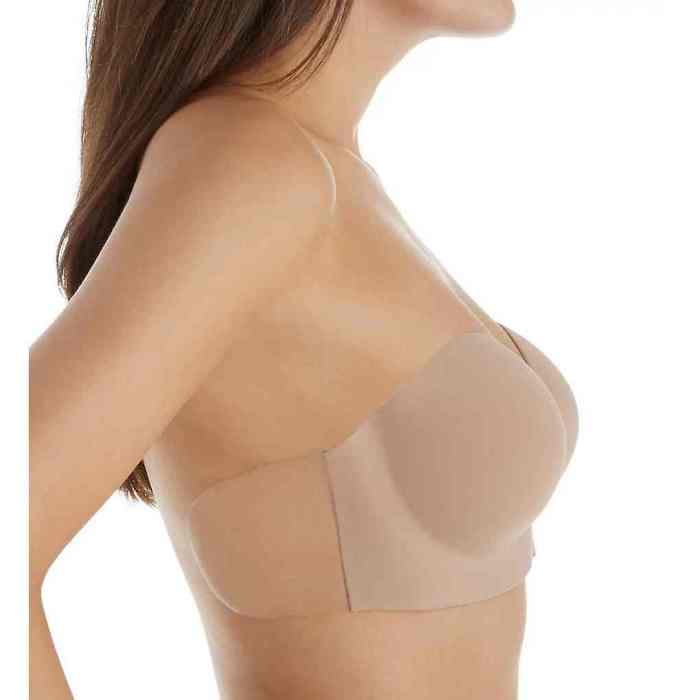 BACKLESS BRAS
 Opt For Full Bras And Support When You Need It

Just as you would with your regular, every day bras, full sizes should pay attention to supportive elements when choosing adhesive bras.
If you need a little extra support, look for fuller coverage bras that have more generous cups and underwire styles to provide the support and lift that will help you look great and feel comfy.

Beautiful Lingerie Tips

If it's your first time, don't rush. Relax! Take your time and read the directions C-A-R-E-F-U-L-L-Y.
It may take a few tries to get your bra positioned comfortably, so be patient...remember Rome wasn't built overnight!
If you're using self sticking bras for a special occasion such as a wedding or prom, consider having a back up pair. Better safe than sorry for those special occasions!
 Experiment With Petite Bra Styles

Small-busted women can opt for traditional adhesive cups, or they can experiment with some of the alternatives, like stick-on breast petals that just cover the nipple area. If you don't need the lift and support of full cups, then simply camoflauging the nipple might just be the perfect thing for petites.
 Choose Colors Carefully

These specialty bras are typically nude toned, but are also available in black - strictly the basics.
Decide what will look best with what you're wearing and choose black if you're going to be in dark colors, or flesh tones if you're wearing pastels, sheers, or white.
These shades are universally flattering under anything that you wear, and you'll love how the miracle of how these brassieres become invisible and effortless under your favorite clothing.