Training Bra Guide For Parents
Training Bra
---
When choosing a training bra (also called a first bra or starter bra) and lingerie for teens, remember to keep it simple. A teen sports bra or soft cotton brassiere with a touch of lycra is an easy fit and a great choice for first timers.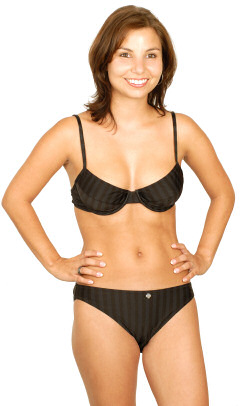 Many of today's easy fit preteen bra styles are available in xsmall, small, medium, large, xlarge, and come in a rainbow lingerie of colors to please every young girl's taste.
From bright and funky to quiet and classic, many preteen bras and preteen lingerie are available in a rainbow of colors like red, blue, green, pink, purple, yellow, and black.
The traditional colors for first bras of course are basic white and black.
As the breasts begin to develop and grow, a young girl will begin to need more support to keep the breasts in place.
So, depending on how quickly they develop, girls will eventually move into standard bra sizes with an AA, A, B, C, D, DD+, cup. Once girls move into regular bra sizes, it is necessary to determine bra size, using a quick formula as a guideline.


Freshpair.com
Bra Sizes
---
Finding the right bra size in preteen and teen lingerie and getting the bra fit is really important when a young girl's body and breasts are constantly changing and growing.
Wearing the right teen bras, camisoles, teen panties and undergarments can actually improve the appearance and posture, and how a young girl's clothes look, fit and feel.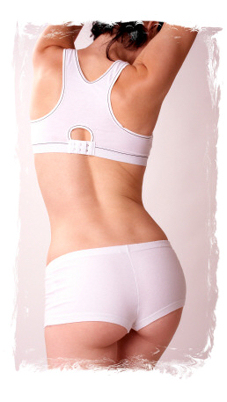 So, whether it's the first brassiere and teen lingerie purchase, or the hundredth, the most important thing to remember is comfort, and getting the correct bra size. For more information on how to get the right size, take a look at our easy bra size calculator. Keep in mind when shopping for training bras or any teen lingerie, that darker or brightly colored undergarments will show through your light colored clothing.
For example, a black or red starter bra will always show through white tops, etc.
Also, heavier lacy bras may show bumps and bulges through tight fitting clothing.
If this is a concern, choose a teenage bra in seamless microfiber or cotton for a smooth look.

Preteen Bra Styles
---
Sports Bra - designed to minimize breast movement (as much as possible). Ideal for use in any activities with a lot of physical movement.
Zip Front Sports Bra - often comes with cotton-lined cups that are high at the front and sides for support, with a zipper front.
This style has a comfortable wide underband of non-curl elastic to prevent it from riding up.
Softcup Bras - have no underwire and use the cup and band for support.
Cotton Bra - A soft stretchy brassiere made of 100% cotton or a cotton with lycra blend. Available with or without an underwire.
Stretch Bra - made of stretchy fabrics like cotton, nylon or lace...a very easy fit.

HerRoom Lingerie We Buy For Ourselves
Related Teen Lingerie Links
---
The First Bra

Lingerie For Young Teens

Teenage Bra

First Bras


Leave training bra and return to exotic lingerie