The Insider's Scoop On
Nursing Nightgowns
Nursing Nightgowns
That Make Life Easier For New Mothers
---
Nursing nightgowns can be a tremendous help to new mothers. These night gowns feature removable, adjustable panels in the bust area that allow the woman to breastfeed her baby without having to remove her nightie or pajamas.
This comfortable and practical ladies sleepwear style is particularly a blessing for first-time mothers who are still adjusting to the demands of late-night feeding sessions!
Along with a few nursing bras and womens robes nursing gowns are a wonderful choice for hospital wear, since they provide comfort in bed but do not impede a mother's ability to nurse at any time.

Womens nightgowns for nursing mothers are available in a huge variety of styles, colors, and fabrics. Here are a few of my favorite dos and don'ts to help new mums....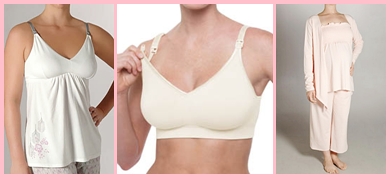 Destination Maternity
Fabric Dos And Dont's
---
When
lingerie shopping
, look for
nighties
or
womens pajamas
made from durable, washable materials, since they will frequently become soiled with residual drops of milk and the inevitable baby spit-ups that often occur.
A cotton nightgown
is the popular
intimate apparel
fabric choice, since it holds up well under
repeated washings
and responds well to chemical stain treatments. There are several synthetic fibers with similar properties.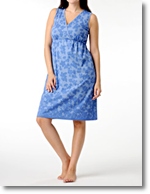 Most women would be well-advised to stay away from silk or satin nightgowns or other more delicate lingerie materials since these types of sexy nightgowns are not very durable.
There are several durable synthetic womens sleepwear materials like nylon or microfiber that give the sheen of satin but do not require fastidious care.
These are a fantastic choice for the woman who wants to branch out a bit from the standard cotton nursing nightgowns.

Many women would be wise to consider a sleeveless nursing gown that comes with a matching womens robe.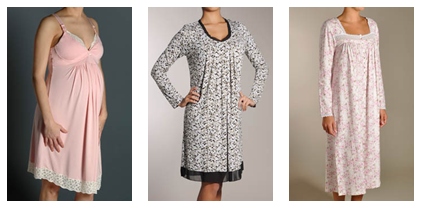 Maternity Sleepwear
This allows the new mother to remain comfortably cool and sleeveless in warm or hot weather, while a cosy wrap robe provides added warmth and modesty in cooler environments.
Matching spa robes or even stylishly feminine terry cloth robes are also convenient to have on hand for modesty's sake, in case there are sudden interruptions or visitors during nursing.
The months and weeks leading up to a baby's birth are usually an exciting and unbelievably busy time.
For this reason, many new parents forget to purchase a nursing and a maternity nightgown and include them in the mother's hospital bag.
Friends and family members of expectant women who want to "go the extra mile" should consider picking up an affordable nursing nightgown or two for the mother-to-be.
Such womens sleepwear can make the first few days of the new baby's life much easier on his or her mother!
Most feminine nightgowns or even matching pajamas emphasize modesty and practicality over seduction and glamour.
When deciding on nightgown length, remember that knee-length or short nightgowns may inadvertently show more skin than intended, particularly when the mother is reclining in bed.
For this reason, most women prefer long nightgowns whose hem reaches their feet.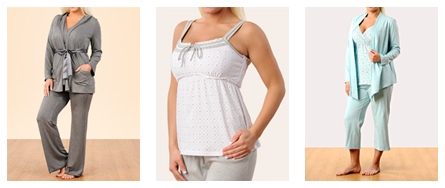 Motherhood Nursing
After The Baby is Born
---
When purchasing
nursing gowns
, bear in mind that almost all women take a few weeks or months to lose all of their baby weight.
Snug or tight nursing nightgowns will be intensely uncomfortable and may also make the new mother feel depressed about her body.
~ Lingerie Tip ~
Keep in mind that maternity sleepwear and lingerie (bras, panties, slips, etc) do not fit the same as your regular clothing. So, it's really important to follow sizing charts and read product reviews before purchasing anything.


To ensure a comfortable and appropriate fit, it's a better idea to buy a
nursing nightgown
that is at least one size larger than what the new mother would normally wear.
If you're unsure of the correct size to purchase and don't feel comfortable asking the mother-to-be, take her husband aside and discreetly ask him or another close family member so as to avoid any embarrassment.

Leave nursing nightgowns and return to exotic lingerie