What is a Demi Bra?
A Favorite Underwire Bra With A Sexy Je Ne Sais Quoi
---
What is a demi bra? In the world of exotic lingerie, these popular brassieres continue to be a sexy must-have for any well-dressed woman.
Belonging to the family of exotic bras, demi bras are often considered too revealing for everyday wear, and more appropriate for special occasions.
While sexy demi bras are most certainly sexier than traditional full bras that we usually wear day in day out, they shouldn't be hidden in your lingerie drawer for date nights.
If, you love the look and feel of wearing your demi cup bras, day or night, wear them and enjoy them! Let's take a closer look at what makes them such a favorite...

---
What's The Appeal?

Demi cup bras are underwire bras with bra cups that are half cups and reveal the top part of the breast. The name comes from the word "demi" which means half in French.
Demi bras have less coverage than most womens bras, and more coverage than the more revealing balconette bra.
These types of bras are sexy and flattering and ideal for low cut dresses, sweaters, blouses, and clothing.
Since the bra cups of the demi bra conceals less of the breasts, many people believe this exotic lingerie style is more of a special occasion brassiere.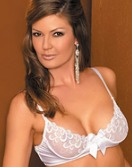 That said, devotees of the demi brassiere will tell you that they need no special occasion and wear this bra style on a daily basis.
So, the consensus is that you shouldn't keep the demi bra hidden in your lingerie drawer!
If it looks and makes you feel fabulous and is comfortable, don't wait a moment longer. Wear it today and enjoy!


---
Did You Know?...
The difference between a demi cup bra and a balconette bra?
A balconette bra has wider set bra straps and offers less coverage that a demi bra. The effect is a gentle lift that is ideal for your low-cut and sexy necklines.
---
Related Demi Bra Links

Bra Fitting -
Choosing the correct bra size and bra styles is essential for daily comfort.
Sheer Lingerie -
Tips and intimate apparel advice on finding the right exotic sheer lingerie styles that fit your style and curves.

Bra Size Calculator -
Need to determine your bra size? Our easy 1-2-3 step calculator will guide you in finding the correct bra size.

Exotic Bras -
From open bras in black lace to sheer mesh bras in delectable white, exotic lingerie brassieres are an intimate apparel must have!

Cupless Bras -
A cupless bra in peekaboo lace, sheer or mesh is the ultimate in sexy lingerie eye candy.

Open Lingerie -
Whether it's adorable pair of g string panties or a peekaboo sheer open bust teddy, risque lingerie can build the excitement of the moment. Wonderful magical moments always begin with sweet nothings....

Leave what is a demi bra and return types of bras.

Leave what is a demi bra and return exotic lingerie.