Secrets of Minimizer Bras
Bra Shopping Guide
---
Minimizer bras are designed to give the appearance of a smaller bustline. These types of bras are typically worn by buxom women who want a more streamlined and less curvy silhouette.
These full bras also help clothes fit better.
Because of their slimming and minimizing qualities they are very popular with large-breasted women who do not otherwise need plus size bras.
These women frequently encounter many difficulties finding shirts and blouses that fit, since a shirt that fits in the bust tends to be really large everywhere else.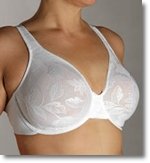 Some women resort to buying overly large shirts and then paying a tailor to take the shirt in. But, when bra shopping, they can save themselves the hassle by picking up a few minimizer bras for their lingerie drawer.
Many women hear the words "minimizer bras" and immediately call to mind industrial-strength "grandma bras" or heavy duty plus size bras that are festooned with industrial strength hooks and straps and that have an appearance more intimidating than alluring.
Thankfully, this no longer has to be the case! Many companies are now commercially producing full figured bras that are both functional and beautiful.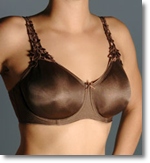 These brassieres are made using state-of-the-art support technology that lifts, separates, and supports breasts with comfortable, breathable fabric.
Minimizer bras typically have wide, padded straps that do not dig or cut into the skin; they also usually have wider bands that close with four or more hooks, keeping the minimizer bra securely in place and providing a smooth rear silhouette.

Women in metropolitan areas rarely have difficulty finding quality womens bras in minimizer styles.
Many department stores stock a large selection; there are also many lingerie boutiques staffed by trained and knowledgeable salespeople.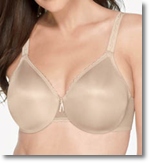 However, many women do not have access to these stores and intimate apparel boutiques.
Thankfully, any woman with Internet access can now find the best bras in minimizer styles available! She just has to know where to look.
Brands such as Wacoal lingerie produce high-quality lingerie undergarments at reasonable prices.
Simply entering search terms such as Wacoal bras in your size into Google or another search engine will provide hundreds of viable results. And of course specialty brassiere shops like HerRoom
carry an extensive range of specialty bras in almost every bra style.

These lingerie retailers have an extensive online presence with full shopping functionality.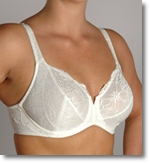 They also typically sell a wider and more diverse brassiere and lingerie undergarment inventory on their website than department stores stock in their typical lingerie department.
This is a definite bonus for any lady who wears hard to find bra sizes. Ladies should also check out the bra styles and available sizes on Ebay and Amazon.com; these sites frequently feature quality lingerie at incredible bargain prices.
A word should be said here about purchasing lingerie intimate apparel at thrift stores, such as Goodwill and Salvation Army.
Many types of lingerie undergarments can be cheaply found at these thrift stores while still in excellent condition; a bargain hunter may easily get years of wear out of such items.
However, the elastic in brassieres wears out after several months of wear. And, most bras are not designed for more than six months of wear.
So, it is best to avoid purchasing used bras, since the elastic is probably at or near the end of its life cycle.
A two-dollar brassiere is not such a great bargain when the two dollars has been wasted on an unwearable item.
It is much better value to buy fewer brassieres that are better quality.


Leave long line bras and return to bra shopping

Leave minimizer bras and return to exotic lingerie