Full Figured Bras Q&A Guide
Types of Bras
---
Full figured bras - Do you have a difficult time getting a great bra fit when you're wearing your favorite full bras or plus size bras ? You're not alone.
These types of bras have a unique set of problems that many of our buxom and full figured clients have experienced.
Not to worry, with a few tweeks and adjustments, getting a comfortable fit is easier than you think.
We've put together a list of 9 of the most frequently asked questions - FAQs (and our suggested fixes) regarding fit.
---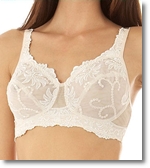 Problem - shoulder pain from brassiere straps cutting into shoulders.
Solution...look for wider shoulder straps (different full figured bras styles have cushioned straps) for everyday wear.

Problem - breast tissue is popping or bulging over the top of the bra.
Solution...the brassiere cup is too small. Increase the cup size (e.g. from a D to a DD cup)...or choose a bra style with fuller cup coverage.


HerRoom Lingerie We Buy For Ourselves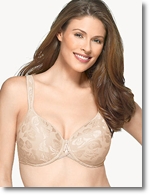 Problem - breast tissue under the arm is spilling over or out.
Solution...look for full bras with wider sides, wider backs and stretchy comfortable support.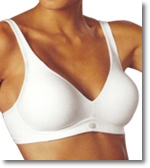 Problem - bra strap rides up on your back.
Solution...hook the band on a tighter setting, or try loosening the straps.
If it still rides up, the band is too big and you need a smaller size (e.g. from a 42D to a 40DD).
If the bra cup fits well, to keep the same cup size when you decrease the band, you need to increase the cup (from D to DD).

Problem - bra strap rides up on your back.
Solution...look for a style with wider (greater than 3 hooks) back and side support. This will help stabilize the bra.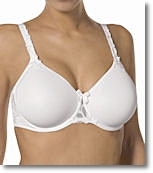 Problem - underwire is poking under the arm.
Solution...increase the bra cup size (e.g. from 40C to a 40D). Or, look for bra styles with fuller cup coverage.

Problem - Cups that wrinkle or pucker.
Solution...The cup is too big. Try a smaller cup size first...if that doesn't work, try a different brassiere. Not every size bra fits the same.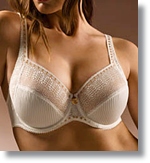 Problem - One breast is larger than the other.
Solution...This is a common problem. If the size difference is substantial, look for brassiere with stretch fabric in the cup.
Also, try adjusting the shoulder strap, so the strap for the smaller breast is tighter than the strap for the larger breast. Be sure to fit the cup size to the fuller breast first.

Problem - Irritation, rashes and redness under breasts.
Solution...Look for full figured bras with a wider, more supportive and comfortable bra band.


Related Articles - Brassieres
---
Types of Bras - A comprehensive intimate apparel guide to some of today's most popular bra styles, full figured bras, and what makes them so popular.

Bra Size Calculator - Finding the right bra size is easy with this three step guide.
You can do it yourself, or have a friend help you. All you need is a soft measuring tape and a pen and paper.

Bra Size Converter - Bra sizes, lingerie and intimate apparel varies significantly from country to country.
Use this easy bra size conversion chart to determine bra size.

Plus Size Lingerie - Whether you're looking for a plus size sports bra and panties for everyday wear or sexy plus size nightgowns for that special romantic evening, finding plus size intimate apparel that you want is easy with a few quick tips.


Leave Full Figured Bras and return to exotic lingerie