Full Bras: Best Tips For Getting A Great Fit
Types of Bras
---
Full bras - When bra shopping for full figure lingerie there are several things to keep in mind.
Getting the correct bra size that fits you perfectly, bra support and comfort should of course at the top of the list.
But just as important are brassiere shapes, fabrics, and brassiere designs.
There are a variety of different bra styles currently available. Here is a handy intimate apparel guide to show you a few of the most popular bra styles...

T shirt bras - these full figure bras are smooth and contoured and usually seamless for a virtually invisible look under your close fitting tees, tops and dresses.
Look for lightly padded bra cups with a hidden underwire, and wider straps for a more polished look.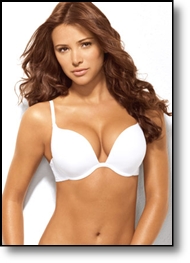 Plus Size Push Up Bra - Pushup bras are designed to increase your cleavage through the clever use of gel, air or foam bra cup inserts. These brassieres are usually angled with an underwire to provide extra lift.
Some
push up bra styles cover most of the breast while others are a demi or balconette bras that show off the upper part of the breasts.

Push up bras are a wonderful choice under your low cut blouses, tops, sweaters and dresses for a little extra va va voom.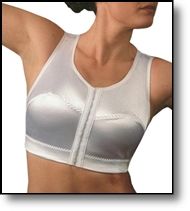 Plus Size Sports Bras - From a front closure sports bra for leisurewear to high impact sports bras these brassieres are designed to limit the range of movement of your breasts while exercising.
Choose fabrics that wick the heat and moisture away from your body for maximum comfort.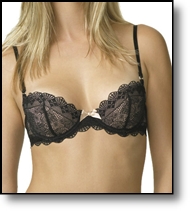 Demi Bra - Demi cup bras, also called half cup bras, usually have a supportive underwire.
They leave the upper half of the breast exposed, and are lightly padded and angled to provide a gentle lift.
These brassieres are considered exotic bras and are usually worn under revealing blouses, tops and dresses.



Related Womens Bras
---
Types of Bras - A comprehensive intimate apparel guide to some of today's most popular bra styles, and what makes them popular.


Bra Size Calculator - Finding the right bra size is easy with this three step guide. You can do it yourself, or have a friend help you. All you need is a soft measuring tape and a pen and paper.


Plus Size Lingerie - Whether you're looking for a plus size sports bra and panties for everyday wear or sexy plus size nightgowns for that special romantic evening, finding what you want is easy with a few quick tips.

Bra Size Converter - Bra sizes just like lingerie and intimate apparel, vary significantly from country to country. Use this easy bra size conversion chart to determine your bra size.

Vanity Fair Bras - We make it easy to find your favorite vanity fair lingerie and full bras at affordable prices on eBay.
Leave full bras and return to exotic lingerie