First Bra Guide to Preteen Lingerie
The First Bra
---
First Bra Guide - A girls first bra also known as a training bra or starter bra is for young girls or teens who have begun to develop breasts but who do not yet fit standard sizes.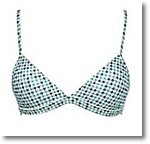 Young girls begin to develop breasts usually between the ages of 8-12, depending on how fast their bodies' develop.
Some girls mature earlier, some later. Body development varies from girl to girl. There is no right or wrong age, as it is all up to Mother Nature.
Breast tissue is very tender as it grows, and young girls tend to be extremely self conscious and sensitive about their changing bodies.
Seemingly innocent comments and teasing can easily be misunderstood by today's ultra sensitive teen girls, and their feelings can be easily hurt.
In the majority of cases it's safer to be aware of their feelings and leave the first bra stories for a later time when they are not as self conscious.
Always be supportive and choose your words carefully when talking to young girls and teens about the changes they are experiencing in their bodies.

HerRoom
Bra Fitting
---
Bra sizes start at AA and go right up to JJ, smallest to largest. Training bras are in the AA to A range.
Since determining bra size can be confusing, it's a good idea to have a professional fitter do the measuring.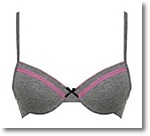 This free service is available in the lingerie section of most department stores and lingerie specialty stores.
They'll be able to suggest, bra styles, support and sizes. They'll also be able to demonstrate the correct steps in putting on a brassiere.
If a young girl is too shy to have a stranger measure her, then check out our easy bra size calculator.


First Bra Guide
---
Cotton bras
- A cotton bra in different colors trimmed with a bit of lace is an excellent choice for a girls first bra.
These girl bras are soft, stretchy and won't chafe against the delicate breast tissue.
Look for cotton blended with lycra or spandex fabrics for a better and more comfortable fit.


Teen Sports Bra
- Sports bras are a great choice. Why? They're made of a soft and stretchy cotton blend fabric with a wider enclosed elastic that rests comfortably under the bustline for an easy fit.
They offer good support for everyday light to moderate activities, including physical education, jogging, cycling, yoga and dance.
Like many training bras, they are available in small, medium, large and xlarge sizes. Look for adjustable bra styles that allow you to customize the fit.

Soft cup bras - also known as wirefree bras or wireless bras. These small cup bras are the traditional choices.


Related Links - Training Bras
---
The First Bra

My First Bra

Embarrassing Bra Stories

Preteen Lingerie


Leave first bra guide and return to the exotic lingerie

Leave first bra guide and return to types of bras