Finding The Right Bra Size
The Right Bra Fit Is Easier Than You Think
---
Finding the right bra size - As the popularity of lingerie and intimate apparel grows, getting the best bra fit is becoming easier than ever.
Major retailers often host bra fitting clinics throughout the year.
Bra fit specialists who represent lingerie manufacturers are often on site, and are a great resource for helping get the correct bra size.
Or, if, you simply don't have the time to visit a lingerie store, there are several online guides that offer advice on bra measurements and how to fit a bra properly.
From push up bras to sheer bras and virtually every bra style in between, getting the right bra size makes an enormous difference in how you look, how your clothes fit, and most importantly how you feel and carry yourself. Here's how you do it...

When Was The Last Time You Checked Your Bra Measurements?
---
Seriously, if you haven't checked your bra size in the last 6 months or are unsure how to fit a bra, it's probably a good idea to make an appointment with a professional lingerie fitter.
Most specialty lingerie stores and department stores have fitters who are well-trained regarding bra styles and bra sizes.

Invest some time in yourself, and don't be shy or afraid to ask questions!
Fitters who know their stuff are an absolute gold mine of information about the best bras for your shape and size. Remember, you're on a mission to get the correct bra size and the best fit of your life!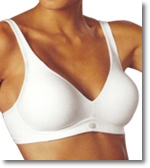 If, you can't make it to a store to be fitted, or you're more comfortable finding the right bra size on your own at home, you can easily take the measurements yourself. If you're not sure, ask one of your friends to help.
You'll need a soft measuring tape, a pen and paper, and our easy 3 step bra size calculator. It shows you step-by-step how to get your measurements, and calculate your size.
Keep in mind though, like all good things bra size calculators should be used as a guideline only, and it's always best to try a bra in person the first time before buying.

Bra Sizes Never Change, Right?
---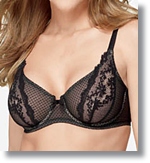 Why do you need to measure your bra size so often? No huge surprises - a woman's body changes enormously throughout her lifetime.
Hormones, age, weight gain, weight loss, stress, pregnancy, time, smoking, different medications, and of course gravity are just a few factors that can affect a woman's body and breast size.
Having yourself measured about twice a year, or whenever you're bra shopping will ensure you consistently get a comfy bra fit.
HerRoom Lingerie We Buy For Ourselves
---
Carmen's Tip For A Better Bra Fit
* Have yourself measured and determine bra size 1-2x a year.

* Don't wear a brassiere more than 3 days in a row. Bra fabric and elastic needs time to rest in between wearings. Instead, have several bras and rotate them.

* Never put your bras in the dryer. Heat breaks down the fibers, and wears them out.

* Handwash your delicates with a mild detergent in tepid or cold water. Air or line dry.
---
Related Finding The Right Bra Size Links
---
Take off bra - There is more than one way to take off a bra comfortably. Find out how with these easy tips.

History of bras - The fascinating story of how the brassiere has evolved through the centuries.

History of the bra - Part II of the history of bras, lingerie and intimate apparel.

What is a demi bra - What makes these exotic bras such a favorite with women everywhere? The name demi cup bras comes from the French word "demi" which means a half cup bra.


Leave finding the right bra size and return to bra fitting.

Leave finding the right bra size and return to exotic lingerie.