Convertible Bras -
What You Need To Know

Bra Shopping Guide
---
Convertible bras are one of the most versatile types of bras that you can invest in. These specialty bras feature detachable straps that can be removed, altered, and reconfigured to accommodate any style of shirt or dress.
Because of their versatility, these womens bras are usually purchased for special clothing and occasions, and may also be worn long after the occasion has passed, though they're not really considered everyday bras.
These unique lingerie undergarment styles are truly five or six brassieres in one!
How To Wear Convertible Bras
---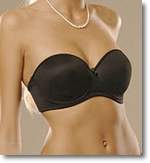 These specialty bras can be worn in many ways.
They can be worn with the bra straps in the standard configuration like push up bras, demi bras, full figured bras, or even feminine balconette bras.
They may also be worn with only one strap (to accommodate asymmetrical dress necklines), or with the bra straps fasted at the back of the neck in a halter configuration.
A racerback bra can be created simply by unhooking the straps in the back and crossing them. This also has the added benefit of additional support.
---



Carmen's Tips



If, you plan on wearing a convertible bra for a special occasion such as a wedding or party, try the bra on in the configuration / style in which you plan to wear it under your dress or outfit, well ahead of the event.

This will eliminate any last minute surprises.
---
Clever Backless Bras
---
Another type of convertible bra features adjustable straps and an adjustable back band that can be lowered to accommodate dresses and outfits with very revealing backs.
These are the best bras that usually have a lower bra band that crosses in the back and clasps in the front, around the wearer's abdomen.
Such a back keeps these backless bras securely in place but will not get in the way of a low-cut dress.
These particular bras work best on women who wear average or petite bras and who do not carry a lot of weight around their midsection.

Full Figure & Plus Size Bras
---
Ladies who are used to full bras may find it difficult to find a comfortable bra fit with enough bra support.
While these womens bras keep the breasts in place and prevent nipple show-through, they do not provide a great deal of uplift or support like pushup bras because of the extremely low back band.
Buxom women may feel that their bustline looks saggy in such a bra precisely because of this; however, women who wear an A or B cup brassiere are usually able to wear these bra styles without damaging their silhouette.

Women who are plus-sized or who carry a lot of weight around their tummies may also wish to choose another of the plus size bras since the bra band may cause unappealing constriction and a "sausage link" effect on the stomach.
Finally, as with all specialty bras they're most effective when they closely match your skin tone.
This ensures a polished and invisible look that's ideal under anything else in your wardrobe, making it a wise choice for continued wear long after the special occasion has passed.