Guide To Bra Sizes
How Different Bra Manufacturers Cater To Different Sizes
---
Bra Sizes - Why does the same size vary so much from one bra manufacturer to another? For example, a 36C should have the same bra fit no matter which bra you choose, right?
In theory, yes. But, much like your favorite pair of jeans, sizes can vary... a lot. Why?
Lingerie manufacturers cater to different niches in the market.
So, for example one who manufactures full bras or plus size bras won't have the same 36C as say one who manufactures petite bras.
Sound confusing? It's not really, once you understand the big picture - which lingerie brands design for you. Let's take a quick look ... you'll be on your way to finding the best bras you've ever had.

---
Calvin Klein Bras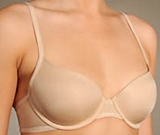 Much like their clothing line, Calvin Klein bras are chic and modern, and offer sleek bra styles with a smaller, minimalist fit.
These sheer, body hugging bras in mostly muted colors are designed for smaller shapes and sizes. If, you wear an A to C cup, these petite bras may be a great fit for you.


---
Olga Bras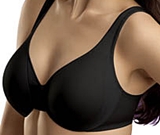 An award winning favorite, Olga bras combine feminine styling with a larger than average to plus size, comfortable fit.
These specialty bras come in neutral shades with occasional styles in brighter colors. If, you wear a C cup to DD cup, these full bras may be a great option.


---
Carmen's Tip
When bra shopping, take your time finding a bra style that fits your needs. Once you find a style you like, be willing to try different sizes.
If, something doesn't look or feel quite right, don't be afraid to ask for a different bra band or cup size.
Don't be afraid to try, try, try and try again to get the best possible bra fit.
---
Bali Bras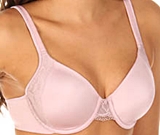 Part of the comprehensive Bali lingerie line, Bali bras offer casual and everyday bras that cater to average sizes.
These practical bras with pretty detailing in soft colors provide a dependable and comfy fit in a great range of bra styles. If, you wear a B cup to DD cup, Bali bras are worth checking out.


---
Glamorise Bras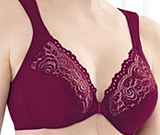 Blending traditional full bra styles with firm support, Glamorise bras are specifically designed for full busted and plus size women who wear C to F (or DDD bras).
These plus size bras are well-known for their wider bra bands, comfortable cushioned straps and deeper cups.


---

Related Bra Fitting Links
---
Bra Measurements - Find out how to fit a bra properly and comfortably, and how to choose the best bras for your shape.

Types of Bras -
A comprehensive intimate apparel guide to some of today's most popular bra styles, and what makes them popular.

Bra Size Calculator - Finding the right bra size is easy with our easy 3 step calculator.

Leave bra sizes and return to bra fitting

Return to exotic lingerie