Guide To Bra Measurements
And Bra Shopping
Bra Fitting
---
Bra measurements - For some women, shopping for bras and trying to figure out measurements is as much fun as say, swimsuit-shopping season.
In fact, many dread it so much they avoid it entirely and end up "making do" with worn out old bras that are long past their expiration date.
For others though, bra shopping is a pleasurable opportunity to indulge in some precious "me time".
If, you belong to the first group, fear not we can help.
We've put together 3 easy questions to ask yourself. Many of our clients swear by them. They'll take the stress out of bra shopping, and help you relax and enjoy. Let's take a quick look.
Do you Prefer Bra Shopping Online Or In Person?
---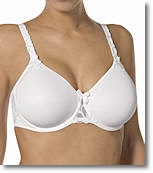 On the upside, many women love the idea of shopping for their favorite bras, panties and lingerie without having to get in the car and go to the store.
The downside is that shoppers who opt for online shopping must be sure to purchase from websites that have generous return policies.
In the event the bras don't fit, you want to be able to return them without a hassle.
While shopping in person takes more time and effort, it does offer more flexibility.
Lingerie staff can offer insight into bra measurements, getting the correct bra size, etc. Plus, department store return policies are generally less restrictive.

What Is Your Correct Bra Size?
---
There are many websites that offer information and lots of great tips on how to fit a bra, and finding the right bra size; however, these self-measuring methods are unreliable for women who wear a C-cup or larger.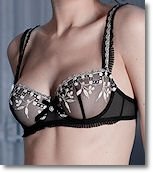 This is where a professional bra fitter can be invaluable. This service is usually free, and available at fine lingerie and department stores like Macys, Sears, JC Penney, Nordstroms, etc.
Check with sales staff for their schedule. Throughout the year popular bra manufacturers often send their fitters for in-store bra fitting events.
These fitters are very knowledgeable about the bra styles and bra measurements, and they can be a virtual encyclopedia about which styles will and won't work for your shape.

---
Carmen's Tips
Are bras that cost more worth it? Yes, it's worth the extra money to buy bras that you feel comfortable in.
Wearing uncomfortable bras that constantly pull, bulge or scratch is not worth the few extra dollars that you'll save.
Which Types of Bras Do You Like?
---
While there are a plethora of bra styles out there, the most flattering bra styles depend on breast size, body type, and the clothing you wear.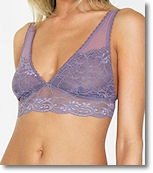 For example, traditional two-strap full bras work very well under most casual clothing, and your work wardrobe.
But, cocktail dresses may require strapless bras, convertible bras, or even adhesive bras.
Low-cut shirts and dresses are often need demi cup bras that show off the top of the breasts bare so as not to interfere with the cut of the shirt.
If, you are a creature of habit like most of us and always tend to wear the same basic (and maybe a wee bit boring) bra styles, why not try something new and different?
Think outside the box with exotic bras that you've maybe never worn before, such as:
Many of these specialty bras used to be very expensive, but technological innovations in recent years have made them very affordable.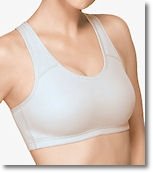 Padded bras like push ups and balconettes have cloth or foam breast petals that push the breasts together to enhance cleavage and visually increase the size of the bustline.
Others have advanced gel padding technology that mimics the temperature, consistency, and feel of real breast tissue.
Plus, the great advantage to adding a new bra style or two to your repertoire is that you can mix and match with other lingerie drawer goodies that you may already have.
Related Bra Measurement Links
---
Leave bra measurements and return to bra fitting

Leave bra measurements and return to exotic lingerie