Guide To Bra Extenders
Types of Bras
---
Bra Extenders - are great must have bra accessories that can extend the life of your favorite brassieres!
No matter what types of bras you wear, if your best bras are feeling too tight, extenders are a great intimate apparel extra to pick up when bra shopping.
They allow you to continue to enjoy your favorite brassieres and even your exotic bras for a long time!
When does an extender come in handy?
An extender is ideal if you've gained weight, if you've had breast surgery and need extra room around the bra band post-surgery.
And, of course they're great as an an add-on to your maternity bras as you grow and your regular bra sizes become too snug around the ribcage.
They attach easily to the back of your existing bras, extending the length around your back giving you extra room for a more comfortable fit.
You can buy extenders as singles or in handy assorted packages that come in various length adjustments up to three inches.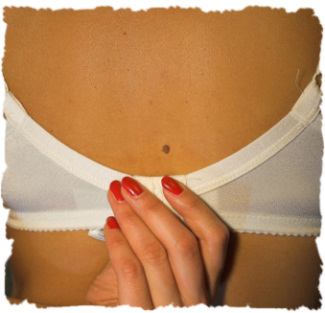 One, two, three or even four hook widths fit most common bra band sizes.
One to two hook width extenders fit your narrow to regular fitting bras and three to four hook extenders are ideal for fuller support, minimizer bras and bigger bras.
Polyester extenders with cotton or plush backing that is soft, and not scratchy or irritating against your delicate skin are the best and most comfortable choice.
Also, look for comfortable hypo-allergenic extenders without metal hooks or eyes for easier and longer wear.


Related Bra Links
---
Bra Size Calculator - If you are not sure of your correct bra size this easy three step intimate apparel guide will guide you step by step in determining your bra size.

Adhesive Bras - An adhesive bra is an excellent choice to wear under strapless dresses, tops and special outfits when your regular brassiere simply won't do.
Leave brassiere extenders and return to exotic lingerie