Insiders Guide To Balconette Bras
An Introduction To Sexy Low Cut Brassieres
---
Balconette bras are wildly popular among women who love a sexy look and feel, with a hint of lift to their bustline.
These exotic bras have a smallish underwire with a very small cup, that offers less coverage than a demi cup bra, but more than an open bra or shelf bra.
They may or may not cover the nipple.
Balconettes, also called balcony bras are designed to draw attention to a sexy bustline, and are suitable under almost any style of clothing. Here we'll review four tips to finding the perfect bra for you.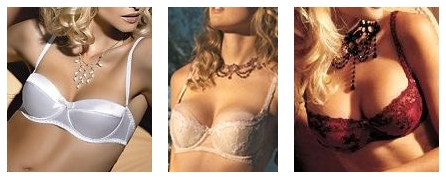 Cup Sizes

---
With balconette bras, cup sizes range from fair coverage to virtually none at all. When deciding on which bra you want, ask yourself what your goal is.
If you want to seduce your sweetheart you may prefer a revealing version with just a little lace above the wire support for maximum sexiness.
If on the other hand you prefer a supportive bra without the constriction of cup material look for something with a half or demi cup.

Lingerie or Department Store?
---
Some lingerie retailers have a wider selection of specialty bras than your everyday department store.
They usually have more colors, fabrics, and selection for you to try on and can be useful if you don't really know what you're looking for.
If, you're not familiar with the different brands of bras, this may be a good place to start.
Consider it part of your evaluation, and you'll be less likely to spend too much on a bra that doesn't end up feeling right.
---
Carmen's Tips

One important thing to keep in mind - there are sizing variations between different bra brands.

Visiting a lingerie retailer with a bra specialist on staff can help clear up these discrepancies.

---

Sheer, Silk or Lace Bras?

---
As most women know, what a bra is made of is muy importante! The right or wrong type of fabric can literally mean the difference between being on cloud 9 and torture central.
This type of bra is no different. If you're looking for something sexy, opt for soft, stretch fabrics like lace or microfiber.
If you're looking for something smooth and lightweight, consider silk bras. Whatever you decide on, choose your bra fabric wisely before committing to a purchase.

Price & Quality

---
When it comes to bras everyone learns the hard way that cheap usually doesn't mean more comfort.
Don't forget that you're buying a sexy look with a comfy fit and feel.
If you want yours to last, consider spending the amount of money that it's worth.
Keep these 5 tips in mind, and you'll be well on your way selecting the bra that's right for you!
Related Bra Shopping Links

---
---
Leave balconette bras and return to bra shopping

Leave balconette bras and return to exotic lingerie