Adhesive Bra Insiders Guide
Types of Bras
---
The adhesive bra is a great solution to backless and strapless dresses, wedding gowns, prom dresses and low cut tops.
Backless, strapless, and seamless, these bra styles eliminate the need for the traditional bra strap and side extensions for a almost invisible look.

The newest adhesive bras are made of soft and pliable silicone cups.
They adhere easily to your body and the great advantage is they can be placed exactly where you want, so you can control how much cleavage you show.
Some backless bras attach separately; others are attached with a front hook that clicks together the front.
And yet other self adhesive padded silicone styles can actually increase your bra size up to one size!
Self sticking bras are available in sizes A through C, 32-38. And, some manufacturers like NuBra, featured on the Oprah Winfrey show are beginning to sell a lighter version with straps for D cups.
If you're not sure what size you are, you can determine your bra size with our easy 3 step bra size calculator.

Questions?
---
What are the color choices?
Black and flesh tone, or nude are the basic color choices. Nude works especially well under anything white. Avoid white under white, as it will show through.
Do self sticking bras stay on?
Yes, they do! Better design and materials have improved the stickiness of adhesive bras greatly.
Follow the manufacturer's directions carefully and you'll be able to wear them comfortably for the day.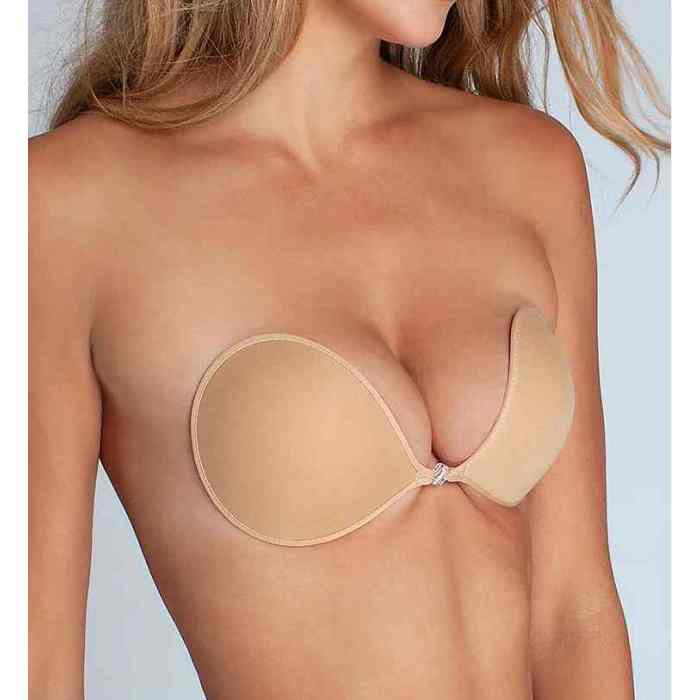 HerRoom Lingerie We Buy For Ourselves
How To Make It Last
---
Make sure your skin is clean and dry.
Avoid perfumes, lotions, creams, or oils on any area of your skin that the
brassiere
will touch.
This can lessen stickiness and make it slide or worse, fall off - something you want to avoid!
If it's your first time, don't rush. Relax! Take your time and read the directions c-a-r-e-f-u-l-l-y.
It may take a few tries to get your bra positioned comfortably, so be patient...remember Rome wasn't built overnight!
If you're using an adhesive bra or a backless bra for a special occasion such as a wedding or prom, consider having a back up pair.
Better safe than sorry for those special occasions!
Related Lingerie Articles
---
Bride Lingerie - Can't decide between a traditional white strapless bustier, pearl sheer bustier, bridal corset, or one of the more practical long line bras for your gown? This bridal lingerie guide will help you make the right choice.

Panty Girdles
- From bra and panties that match to
Spanx shapewear
, control top panties,
g string panties,
bridal panties,
granny panties and more, the selection of lingerie underwear and intimate apparel has never been better or more affordable than it is now.
How To Fit A Bra
- Knowing how to fit a bra properly and comfortably, and how to choose the best bras can be a challenge, even at the best of times!
Plus Size Lingerie
- Whether you're looking for a plus size sports bra and panties for everyday wear or sexy
plus size nightgowns
for that special romantic evening, finding what you want is easy with a few quick tips.
Sheer Lingerie
- Sheer transparent lingerie is divided into two categories. There are basic yet chic styles like
sheer bras
that are designed for everyday wear and offer good support. The second group is sexier, and definitely more decidedly for show, or special occasions.
Types of Bras
- A comprehensive intimate apparel guide to some of today's most popular types of bras, and what makes them so popular.
Leave adhesive bra and return to types of bras

Leave adhesive bra and return to exotic lingerie