Vintage Nightgown Lingerie Secrets
Ladies Sleepwear
---
Vintage Nightgown - From age 9 to 90, women love the special look and feel of a vintage lingerie. And, although it has been in and out of fashion over the years, this classic nightgowns sleepwear style continues to maintain its romantic appeal.
For aficionados of this romantic look, in the past it's been difficult to find true vintage lingerie.
And, because some styles such as older Victorian nightgowns, retro silk nightgowns, and satin sleepwear have been so few and far between, they've become quite the collector items. Nowadays, this is no longer a problem.
Thanks to the internet and lingerie shopping online, buyers have access to a fantastic variety of different womens sleepwear styles to fit every occasion.
There are just a few things to keep in mind when shopping for a vintage nightgown...
Since vintage means different things to different people, the first consideration is which style of nightgown from which era.

Victorian Sleepwear
---
HerRoom
A traditional vintage nightgown from the Victorian era was usually made of 100% lightweight woven cotton with intricate French lace trim, beautiful satin ribbon and bows, and a lot of feminine detailing.
Traditionally these long nightgowns were full and flowing with full length billowing sleeves, detailed pin-tucking around a wide front yoke and a high button collar; they came in pale shades of white, and cream that represented the purity of the Victorian era.
The sleeveless nightgown style from this era was somewhat less elaborate, and more functional than feminine.
Manufactured in a lighter cotton, with less detailing, these night gowns were designed specifically for warmer climates where keeping cool was essential to a good night's sleep.

Retro Sleepwear
---

Another favorite vintage style is retro lingerie from the 1930's and 1940's, which reflects the glamor of the era.

Long nightgowns were designed in rich silk, satin, and nylon with minimal embellishments and a sleek form-fitting silhouette that often incorporated an A-line shape.
Shorter silk or satin nightgowns, often called chemises, were often edged in delicate scalloped lace and cut on the bias to enhance a woman's natural curves.

Shopping For Vintage Womens Sleepwear
---

There are several online retailers and websites that offer new, worn or custom-made nightgowns of vintage varieties.
If, you prefer shopping in person, small intimate apparel boutiques often carry vintage specialty lingerie.
Estate sales, garage sales, flea markets and Craigslist are all great options for finding vintage and hard-to-find pieces. Also, stores that specialize in vintage clothing collections are often a treasure trove for beautifully made vintage lingerie.

The Key To Vintage Lingerie
---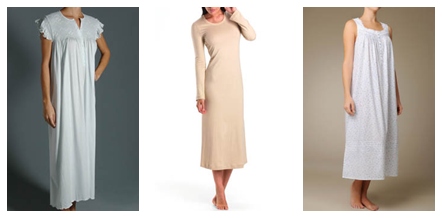 Since times change, lingerie manufacturers come and go, and sizing is constantly changing, it's important to keep in mind that true vintage lingerie and clothing sizes may not be the same as the intimate apparel that's available today.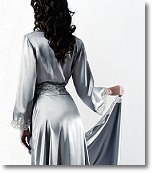 As a result it becomes necessary to take a closer look at the item measurements and compare them to your measurements.
This is especially important if ordering online where for instance, a specialty form-fitted silk or satin nightdress cannot be tried on body before buying.
Also, when ordering online pay close attention to the guarantee and return policy. If, there is any problem, can the item be returned or exchanged, and what are the return/exchange fees?
Finally, it's important to know how to care for your treasures once you have them. A vintage nightgown can be quite delicate and should be handled as carefully as possible.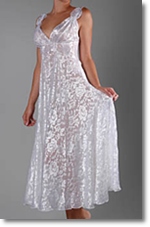 Opt for hand wash with a gentle soap specifically designed for lingerie and intimate apparel such as Forever New.
Or, if none is available use a touch of baby shampoo and lukewarm water.
Never wring or twist vintage lingerie as this can permanently damage the fibers and shape.
Avoid the heat of a dryer and always air-dry your vintage nightgown and any kind of specialty lingerie.
These simple steps will ensure your nightgown lasts longer and retains its soft feel for many years to come.

Leave vintage nightgown and return to ladies sleepwear

Leave vintage nightgown and return to exotic lingerie