Lingerie Guide To Vanity Fair Nightgowns
Night gowns & Vanity Fair Sleepwear
---
Vanity Fair nightgowns provide a wide assortment of flattering, fashionable, comfortable and well known night gowns for women and girls of all ages.
This much loved ladies sleepwear style is available in an extensive selection of fabrics, and colors, and is sold at very reasonable prices by a variety of bricks and mortar stores.
They are also available through online shopping lingerie retailers and auction sites like eBay clothing.
So, how did Vanity Fair lingerie become so well known?
Besides manufacturing Vanity Fair bras and Vanity Fair panties, in the 1950's Vanity Fair was a true women sleepwear innovator with their bold use of animal prints (such as leopard and tiger) for intimate apparel.
In so doing the intimate apparel company made a lasting impact on lingerie production and indeed, on the entire fashion world.
Vanity Fair was also an innovator of the lightweight tricot fabric used in so many of its undergarments; this fabric is extremely durable and properly cared for, can easily last a lifetime.
So, which styles are popular? By far, the "coloratura" style is one of the most popular nightgowns.
This is a sleeveless knee-length nylon nightgown that is machine washable and tolerates machine-drying very well. The "coloratura" nightgown and matching womens robe is available in both misses' sizes and plus sizes. It features a V-neck with ruching detail on the neckline, with a flowing and comfortable straight drop to the knees.
For this reason, the "coloratura" is often favored by women who carry a bit of weight around their midsection. These nylon nightgowns and womens robes come in a wide array of flattering and stylish colors, including light rose, salmon, white, sky blue and navy.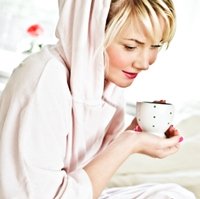 The Vanity Fair spaghetti strap nylon slip also known as a chemise is another very popular choice in the line of Vanity fair nightgowns.
This nightgown features thin straps and a low neckline that is not for the faint of heart!
The bust is supported by an underwire bra, and the hem is knee-length with a delicate scalloped edging.
The fabric is a delicate cotton tricot that is very soft and silky against the skin which is much easier to care for than actual silk.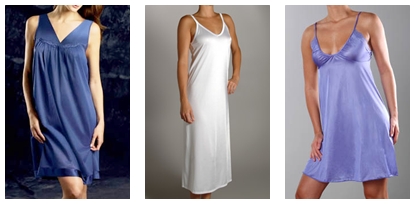 Because of the bra cups, this cosy cotton nightgown is sized based on the bra band and cup size.
It is available in several beautiful colors and may be worn either as sleepwear, loungewear, or as a bra slip beneath a dress.
Vanity Fair nightgowns have been a lingerie favorite for decades because of their flattering, wearable styles, comfortable fabrics, and beautiful colors.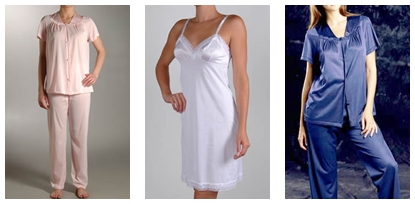 Vanity Fair lingerie and sleepwear is easy care; it's machine washable and some styles may be put in the dryer, though you should check the care label to make sure.
The thin tricot fabric of this popular womens sleepwear does not wrinkle easily and takes minimal room in a suitcase or garment bag.
For these reasons these night gowns and lingerie are a great travel option. for this reason.
For extra warmth, these versatile nightgowns can be be paired with a bathrobe and slippers.
Vanity Fair also carries an extensive line of matching womens pajamas, including short and long pajama pants as well as a range of tops in many styles.

Leave Vanity Fair nightgowns and return to night gowns

Leave Vanity Fair nightgowns and return to exotic lingerie