Insiders Guide To Silk Nightgowns
Uncovering The Luxury of Silk Sleepwear
---
You've probably seen silk nightgowns when lingerie shopping at the mall, and figured to yourself, what's the fuss all about? Nothing special, right?
Night gowns are night gowns no matter how you slice it, right?
Not quite. Silk nightgowns are a much finer material than most cottons, polyesters, nylons, etc.
Because of it's nature, silk is a much softer, smoother and all around more comfortable fabric choice than most other fibers.
This can be especially true when choosing any type of ladies sleepwear. You don't want something that will keep you hot and stuffy such as chenille or flannel sleepwear.
Or something that will be stiff and abrasive to the skin like nylon nightgowns.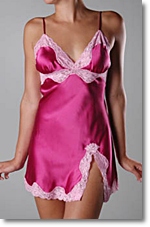 This is where silk nightgowns come into play. They offer a relaxed, cool feel. Perfect for helping you ease into a nice deep, restful slumber.
When choosing a silk nightgown, there are a few things to consider.
You'll want the sizing to fit just a bit loose, allowing it to fit freely over the body, so you'll be comfortable. Make sure you opt for 100% silk lingerie, as some are often silk blends.
Another reason people love silk sleepwear is its long and prestigious history. Silk was at first an exclusive export of the orient. At one time it's market value was actually compared with gold, silver and other valued goods!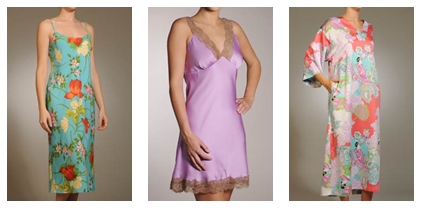 HerRoom
Silk can be safely dyed using natural dyes to any color choice and it's known for it's high tensile strength. Some silk is in fact made for highly demanding applications such as parachute cord, rope and so on.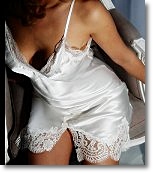 So while silk is durable and strong enough for these strenuous tasks, it is also gentle enough to slip into after a long hard day at work, and the feeling of silk on one's skin is second to none.
While you can purchase silk sleepwear in department stores, you'll probably find a better selection online.
A simple web search will give you many more options than a department store.

While online lingerie retailers are a great choice, just be sure you are buying from a reputable source. This can easily be discerned by looking at the site itself, and checking reviews.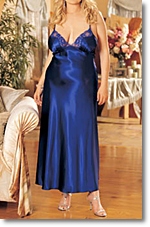 If, you prefer shopping in person, always look at the label of the lingerie undergarment to be sure of the quality.
Check for any indications of bad sewing around the seams, joints and so on to be sure the construction is up to par.
Taking the time to carefully inspect the silk will save you inconvenience in the future, and ensure that your silk clothing will last many years.
Be forewarned that silk womens sleepwear does not come cheap.
Prices can range up to several hundred dollars, with specialty nightgowns sleepwear and luxury robes going as high as thousands of dollars.
If, for some reason or another you don't feel comfortable wearing silk, you can always opt for a silk substitute such as satin sleepwear which is made of polyester.
Although you won't get the same feel and quality that silk is known for, satin lingerie is a nice and affordable alternative.
There is a reason why silk lingerie undergarments have continued to be so popular throughout the ages.
Their luxurious lightweight feel offers the most relaxing fit of any of the natural fibers. Opt for a fine silk nightgown or sleepwear today and your body will thank you for it tonight!

Leave silk nightgowns and return to exotic lingerie