The Best In Satin Pyjamas
Favorite Ladies Sleepwear Gift
---
Satin Pyjamas - glamorous and chic, these pajamas have become the new urban chic in womens sleepwear and intimate apparel.
If they weren't, then Jennifer Lopez, a world class fashionista known for her great sense of style, wouldn't have been caught wearing a pair of white satin pajamas to a Miami Dolphins game.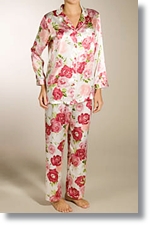 So, while satin pjs have been around for decades and enjoyed by many women (and their partners), what is it that makes these womens pajamas so popular and such a timeless favorite?
There are several reasons. Satin is feminine and silky smooth. It's also very affordable, especially when compared to its more expensive cousin, silk.
Satin sleepwear which also includes satin nightgowns, chemises and satin robes are prized for their glamorous look, soft comfort, smooth texture, and easy fit for almost any body type.
~ Satin Lingerie Tip ~
Satin nightgowns, pajamas, chemises and sleepwear are mostly all cut on the bias. This means there is minimal stretch, which is important to keep in mind if sleepwear is meant as a gift. Better to opt for a slightly larger size than smaller, since satin tends to shrink after washing.


From petite to plus size lingerie, the size range for this type of lingerie is extensive, which makes it a great gift option for friends and family members from great aunt Loullabelle to your cousin from California!
Let's take a look at some advantages and benefits of satin pyjamas in this luxurious fabric...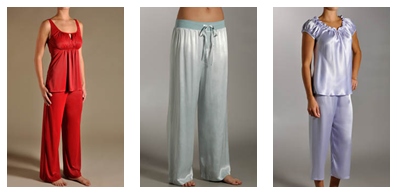 Benefits of Satin Pyjamas
---
Whether as night gowns, pajamas or a womens robe, satin sleepwear never goes out of style.

Satin and its glamorous cousin silk have a wonderfully feminine appeal that is not surprising, considering how soft and luxurious they feel.

Plus, satin lingerie makes a wonderful and always appreciated gift.

So, if you're ever stuck for a present for your sweetheart, consider these ladies pajamas. Sleeping or lounging in satin pajamas has never felt so good!

Satin ladies sleepwear is far more chic than, say a cotton nightgown or any flannel sleepwear style. Satin pajamas are versatile for sleepwear and lazing around the house.

Anytime of the day you feel like relaxing, simply slide into a pair of matching pajamas in satin (or silk if you are feeling a tad diva-esque) and you're all set.

Satin sleepwear and womens robes in satin have an amazing feel on the skin. Pajamas and robes fit loosely and comfortably, and are cool in warmer temperatures.

On the other hand, they are cozy in cooler weather. Satin is a polyester lingerie fabric that is both easy to wear and clean.

Satin lingerie offers a fantastic array of colors and designs.

From sexy satin bras and satin robes to the satin camisole and satin nightgown, virtually every color and pattern are available in satin fabrics.

From deep and rich shades to light, subtle and romantic hues - they are available in silky satin sleepwear and intimate apparel.

Womens sleepwear styles vary. Conventional ladies pajamas with elastic-waist pants and long sleeves tops are the tried and true favorite.
Like most lingerie and intimate apparel, pyjamas are also available online.

So, you can indulge in online shopping for pajamas and other satin sleepwear from anywhere in the world. All you have to do is to wait for your order to arrive…right at your doorstep.

Leave satin pyjamas and return to exotic lingerie