Sexy Satin Nightgowns - 4 Lingerie Tips
Beautiful Satin Ladies Sleepwear Styles
---
Over the past few years, satin nightgowns have remained one of the most popular ladies sleepwear styles.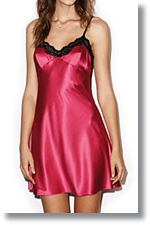 Not as expensive as extravagant long silk nightgowns, though just as stylish, these long nightgowns have become a lingerie drawer essential for every woman who likes to combine fashion with femininity.
Perhaps the best thing about satin lingerie is the fabulous variety of styles.
From night gowns and womens pajamas to chemises, virtually every lingerie style that you could hope for is available in satin.
Satin bras, satin panties, satin slips, a satin bustier, or a satin camisole...whew, the list goes on and on.
And of course tried and true favorites like satin pajamas and a matching satin robe, or nightgown are cool, sophisticated never go out of style.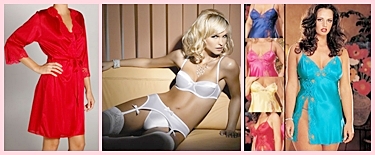 What makes these night gowns so popular? Womens sleepwear in satin is a soft, easy fabric that is comfortable and relaxing to wear. The silky textures combined with rich colors are conducive to feeling great and looking like a million.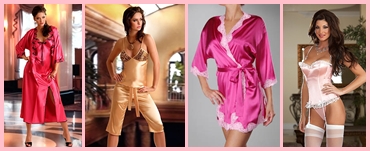 The Satin Sleepwear Perception
---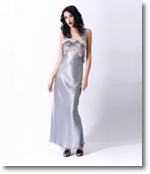 Often, when a satin nightgown is thought of the impression is always one of sexy nightgowns or honeymoon lingerie.
The emphasis being on erotic or exotic lingerie. While this is true it's important to remember that these nighties are so much more.
Whether you are dressing for your honey, or for a romantic weekend getaway for two (did anyone say Paris?), satin gowns and lingerie can enhance any moment.
Similarly, ordinary days will seem more special when wearing something as simple as say, a classic black chemise in satin or even silk. This is a lingerie basic that every woman should have.
~ Satin Sleepwear Tip ~
Satin is a engineered fabric that is usually cut on the bias (that means diagonally) for more give. This offers a nightie, chemise, or robe a more fluid and graceful appearance... but minimal stretch in fit. You may need to go up a size for a more comfortable fit.


So, you may be wondering how you go about choosing the right satin womens nightgowns ? First you need to...
Determine your nightgown needs. If you are looking to add a touch of romance to your life, then opt for a sexy, seductive look. Embroidered, lacy, satin or a sheer nightgown are a fabulous choice…and help set the stage for those romantic moments.

If on the other hand, sexy nightgowns aren't for you or the nightie is for a good night's sleep alone, then a simple white nightgown in cotton or satin pajamas will do with matching satin robe will do.

Decide on the length of the nightgown. The right nightgown will also depend on your motives. Is it basic ladies sleepwear or for a special occasion?

The most commonly used is the knee-length. Others come in hip-length or floor-length. Women with long, shapely legs may choose a shorter satin chemise.

While women who do not feel comfortable flashing their gams may feel more comfortable with a longer cut.
Shop For Satin Sleepwear
---
Color is a factor in choosing the right satin sleepwear. Black and red satin nightgowns are trademark colors of this sleepwear style, particularly for those aiming for a va va voom, sexy look.

A white satin nightgown presents a fresh and clean look while bright colors exude a cheery, vibrant feel.

It is not surprising to find many women opting for sexy nightgowns, satin bras and intimate apparel in white and fresh colors like melon and ivory, as spring and summer approach.

Consider sleeve length. Nightgown styles also differ from long sleeve, to 3/4 sleeve, cap sleeve and sleeveless.

Necklines vary from a plunging v-cut to the traditional round neck. And, night gowns run the gamut from straight bodice shapes and flowing princess cut to the more body-hugging styles.
The rule of thumb is to buy a nightgown, or lingerie or any intimate apparel for that matter because it makes you feel and look wonderful. And then you'll be certain to love the lingerie you're in!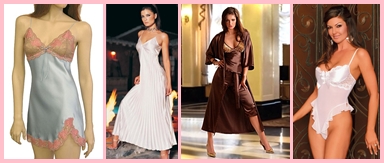 Leave satin nightgowns and return to exotic lingerie