Pushup Bras
Types of Bras
---
Pushup bras are without a doubt among the best types of bras for enhancing cleavage and giving you a sexy lift.
So, just how do push up bras increase your cleavage?
Through their clever design, padded push up bras usually have an underwire and built in padding that, depending on the bra style is either fixed in place along the outer sides of the brassiere or with removable inserts that are also known as "cookies".
If you're looking for more flexibility, you should go with a push up bra with removable inserts, breast petals or cookies.
Made from foam, gel or silicone, these inserts give you the option of extra lift when and if you want it, depending on your outfit.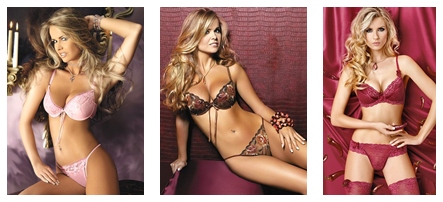 If you opt for a push up bra with removable inserts, by carefully placing them along the lower inner 1/4 part of the bra cup this will push the breasts together and increase your cleavage.
By placing them along the bottom inner part of the bra cup, this will make your breasts appear higher. One brassiere with two totally different looks!

Determining Bra Size Is Easier Than You Think
---
Whether you are shopping for lingerie online or at your local lingerie stores, knowing your right bra size is the first step.
Keep in mind that bra sizes do vary a lot from one manufacturer to another, so when you determine bra size, remember to use it as a guideline only.
First, you'll need a pen, paper and a soft measuring tape.
Wrap the measuring tape tautly around your ribcage just under your breasts, making sure it's flat against your skin. Keep the tape level to the floor to get a true measurement.
Then, take a second measurement all the way around your ribcage and over the fullest point of your breasts (your nipples).
Don't pull too tightly, you want a true measurement. Again, keep the tape level to the floor.
Write these measurements down, Then, click on the bra size calculator for help on finding the right bra size.
For more related information on bra sizes and lingerie styles, follow the links listed below.

Related Padded Bra Articles
---
Bra Size Converter - When that sexy bra that is made in France is calling to you, you can find the North American converted size here.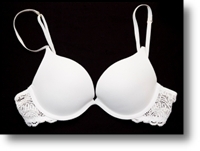 Demi Bra - Demi cup bras, also known as half cup bras reveal show more of the bustline than full coverage bras with sexy cut-away cups.

Exotic Bras - Sheer bras, lace bras, and even ultra sexy cupless bras are the ultimate in exotic lingerie. Find out why.

Plus Size Push Up Bra - The ultimate cleavage enhancer. Pushup bras are a favorite lingerie item of men everywhere!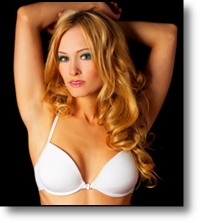 Sheer Lingerie - From sheer bras and sheer camisoles to a sheer micro bikini panty and sheer nightgown, exotic sheer lingerie is the ultimate in sexy intimate apparel.

Womens Thongs - thongs, g string, and more sheer panty styles are the perfect complement to sexy pushup bras.

Open Lingerie - Be daring and add an open bra or open bust corset to your lingerie drawer. Mix and match this sexy lingerie with your favorite intimate apparel.

Leave pushup bras and return to exotic lingerie