Insiders Guide To
The Nursing Nightgown
Night gowns For New Mums
---
A nursing nightgown is a maternity lingerie style that is designed specifically for new mothers who decide to nurse their new babies.
This type of nightie provides easy access for the baby to nurse anytime, night or day, which makes it a very handy item for new mums.
This ladies sleepwear style eliminates the need for nursing moms to wear a traditional brassiere that can be bulky and uncomfortable, and it does away with the hassle of removing a brassiere every time for breastfeeding, which can save time.
Nursing night gowns along with maternity nightgowns come in a variety of styles and fabrics that are practical yet stylish. They run the gamut from short to full length and sleeveless, half sleeved or even full sleeved depending on your needs.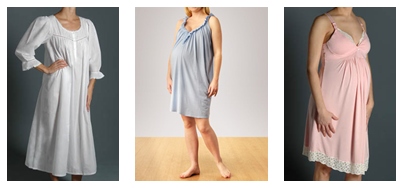 Most maternity lingerie, including nursing bras are made of cotton, or cotton with a touch of lycra, which is a great choice for mothers. Why?
Cotton is a favorite fabric simply because it is a natural fiber that breathes well. It is comfortable, cool and lightweight and makes it easy for a nursing mom to look feminine and fabulous in a pretty cotton chemise or chic cotton nightgown.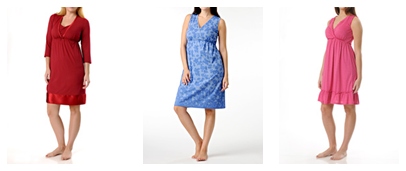 Destination Maternity
Nightgown Styles
---
Nursing nightgowns, with womens robes can also be worn long after the baby is weaned as they are so comfortable.
Here are several popular nursing night gown styles:
Double layer – this style has clips with a double layers of support that affords easy nursing access from each bra cup.
Snap or button closure – each shoulder snaps down for ease of breastfeeding for nursing mothers.
Inverted pleat – the front of the gown has pleats that unfold, exposing the breasts so you can comfortably nurse the baby.
Split front – the front is split in the middle to facilitate easy access to the breasts. These gowns can also have a clear micro elastic sewn under the breasts to hold nursing pads in place so you can skip wearing a brassiere to bed.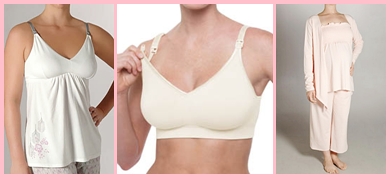 HerRoom Lingerie We Buy For Ourselves
Maternity Lingerie Shopping
---
When buying a nursing nightgown or a maternity nightgown, don't forget the matching womens robe to make it a pretty set.
Opt for comfortable intimate apparel styles that will be easy to wear in the hospital and at home.
~ Lingerie Tip ~
Start looking for nursing bras, easy fit panties, nightgowns and robes that fit comfortably while you are pregnant, in your third trimester.


Most nursing nightgowns today are both functional and chic enough to be worn to bed or around the house for when visitors and well-wishers drop by.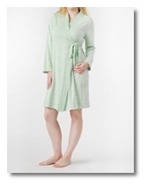 Nursing gowns and maternity nursing bras are available in most larger bricks and mortar stores.
You can start your search in the lingerie section of your local department stores. But you may find that the selection in department stores is somewhat limited.
So, it may be a better option to check out online shopping where the variety of styles and sizes tends to be much better than in local stores.
For a new mother who is nursing and does not have a lot of time on her hands, online shopping is a wise choice.

Related Maternity Lingerie Articles
---
White Nightgown

eBay Clothing

Cotton Nightgowns


Leave nursing nightgown and return to exotic lingerie