Lingerie Shopping Tips For Men
Lingerie shopping tips for men - Have you seen it before? She opens the gift box with gusto...the pause...then, the disappointed look with the forced smile...and the inevitable, "oh gee honey, you shouldn't have... uhhmmm thanks."
If this scenario sounds familiar it may be time to ask yourself, do you give lingerie gifts your loved one hates?
With such a dizzying array of sexy lingerie styles, fabrics, and colors available online, it can be more than a little intimidating and confusing knowing exactly what to choose for your honey.
Fortunately, a few easy lingerie shopping tips for men along with our lingerie buyers guide and wrapping of lingerie tips can make intimate apparel shopping for your beloved as much fun (wink wink, nudge nudge) as shopping for that plasma screen tv you've had your eye on...plus the results are much better!
Lingerie Shopping Tips For Men

---
Women tend to buy practical intimate apparel for themselves. They don't splurge often, if ever. It's realllllly important to know that you are buying exotic lingerie for your lady's tastes, not your own.
Remember the times you've received a gift you didn't like? The same rule applies to women, especially for such a personal gift as lingerie.

Lingerie Shopping Tips For Men II
---
We can't stress the next tidbit enough...ladies don't like tacky, cheap, or cheesy lingerie. When buying intimate apparel for your loved one, styles like crotchless panties are akin to the kiss of death.
Run, don't walk away from anything tacky or sleazy!
Avoid fabrics like nylon that are coarse, rough, itchy and look cheap. No to these and you're halfway home!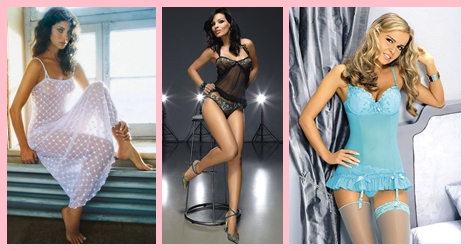 Instead, look for soft yummy fabrics like silks, satins, soft floral laces, velvets and velours. Stretch fabrics are also an easier fit than rigid ones when the size has to be perfect to fit well.
Lingerie Secret - Women love love love to be wooed with beautiful quality, romantic, soft and yummy lingerie.
This is a great moment for you to shine! Beautiful open lingerie is a wonderful way for you to express your love and desire for your lady...and a great opportunity for her to luxuriate in her beautiful gift and feel pretty about herself...not to mention seductive!

Lingerie Shopping Tips For Men III
---
Think about which part of her body your love considers is her best asset and loves to show off.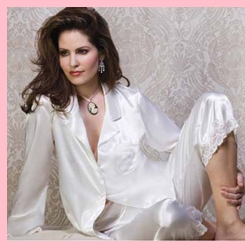 Does she have great legs?
Something short, whispy and feminine like a chemise in stretch lace or a sheer sexy babydoll are great styles. Also consider a fine mesh teddy with lace detailing or a cami and thong set. These styles will show off her great gams.
Does she have a gorgeous cleavage?
A beautiful lace and satin bustier, sexy bra and panty set, camisoles and cami sets or a princess style (fitted bodice with long flowing skirt) nightgown with a plunging neckline are all excellent choices that will enhance her luscious curves.
Does she spend a lot of time working out at the gym and have beautifully toned arms she loves to show off?
Try a pretty crisp cotton, stretch floral lace, or fine mesh teddy...or a slinky silk and lace camisole set, with spaghetti straps.
No matter what you choose, don't forget to include a pair or two of her favorite lingerie undergarment ...be it matching tap panties, bikini thong panties, g string panties, or a hicut panty, panties bikinis, a boy brief panty, a hicut panty, tanga panties, low rise panties, seamless panties, or womens thongs ...it's always a nice touch and shows you've put a lot of thought into her gift.
Lingerie Shopping Tips For Men IV
---
A word of caution about womens thongs. You may love them and think they look sexy great, but many women don't like them... and liken thongs to wearing dental floss! An unloved thong will end up in the "never again" lingerie pile faster than a nanosecond.
Better to choose something she loves and will wear, not something you want her to wear! Your honey will really appreciate your thoughtfulness!

Lingerie Shopping Tips For Men V
---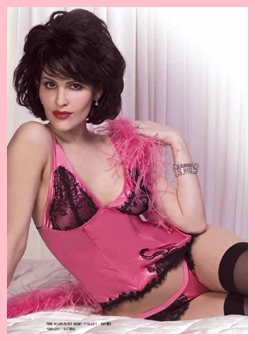 Getting your loved one's right size is VERY important. Buy too small or too large and you'll get "the look".
The best approach is to wait until your lady is out and take a quick peek through her lingerie drawer and closet.
Write down her sizes. Also, look at the lingerie styles she wears, this will give you an idea what she likes.
This is a great indicator of her tastes and what she is most comfortable in.
Does she love chemises in charmeuse, slips, bra and and panty sets, silky peignoir nightgowns and robes, satin nightgowns, pajamas, corset and bustiers or lingerie garter belt and thong sets.


What kind of lingerie personality is she?...
Is she a girly girl like Paris Hilton, Nicole Kidman, or Cameron Diaz who loves frills, lace, and delicate dainty romantic chemise and black long nightgowns?
Is she a Sex In The City glamour gal like Sara Jessica Parker, Marilyn Monroe, or Jennifer Lopez who loves dramatic exotic leather lingerie, rhinestone bras, chemise with tie sides, and sexy baby doll lingerie styles and loves to be noticed?
Is she a classic beauty like Catherine Zeta Jones, Angelina Jolie, or Scarlett Johanssen who favors classic styles and fabrics like rich pure silk lingerie, chemise in stretch lace, and satin silk nightgowns?
Or, is she the ultimate girl next door like Hayden Panetierre, Julia Roberts, or Audrey Hepburn who is more comfortable in crisp cotton sleepwear and romantic intimates with just a hint of lace?
Lingerie Shopping Tips For Men VI
---
Think about what colors she likes to wear. White and black are both lingerie classics and look great on everyone.
Red and black are the ultimate in sexy colors and look wonderful on a brunette.
Strong shades like jade or green are excellent choices for redheads.
Also gaining in popularity once again are pastel shades like baby pink, cream/ivory, baby blue, and shimmering silver.
If you're not sure, then go with black. It looks great on everyone and is incredibly sexy!
Leave lingerie shopping tips for men and return to beautiful lingerie