The Ultimate Guide To Lanz Nightgowns
The Appeal of Favorite Lanz Nightgowns & Sleepwear
---
Lanz nightgowns first came to the U.S. lingerie market in the mid 20th century. These romantic night gowns call to mind the prairie fashions of the mid-to-late 1800's, but with brighter and modern fabrics.
Traditional Lanz sleepwear styles are crafted from soft, thick flannel and frequently employ toile prints in hues of red-on-white or blue-on-white plaid or tartan designs.
These flannel sleepwear nightgowns feature elastic wrist cuffs and elastic at the neck to ensure a comfortable, secure and modest fit that does not migrate uncomfortably over the body during sleep.
Flannel nightgowns, pajamas and womens robes are a warm and cozy choice for the fall and winter months, and are available in a range of classic lingerie and intimate apparel styles that will never be out of fashion!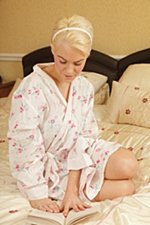 Lanz nightgowns are also available in cooler lightweight fabrics for spring and summer wear.
In addition to its flannel offerings, Lanz of Salzburg produces seersucker cotton nightgowns that fall to the knee or the mid-calf.
Seersucker is a light, flexible intimate apparel fabric that helps wick moisture away from the skin, keeping the wearer cool and comfortable in hot and humid conditions.
Many of the lightweight womens nightgowns from Lanz are sleeveless, featuring thin, adjustable straps.
These romantic nightgowns are often decorated with eyelet, embroidery, and other delicately feminine embellishments to create a luxurious ladies sleepwear experience. Pintucking is another characteristic of Lanz nightgowns, and is usually featured on the bodice.
Satin ribbons of various colors are also used in many Lanz of Salzburg sleepwear designs to add detail and interest.
Classic print Lanz flannel nightgowns are also available in lighter cotton nightgown styles for warmer weather.
Another option for the spring and summer season is the Blue Danube gown, which is designed in cotton cambric and features short cap sleeves.
Matching cotton or terry cloth robes are also available for many nightgowns, including the Blue Danube.
It is important to note that because Lanz sleepwear is so famous for its warm flannel nightgowns, many salespeople are not aware that the company also manufactures cotton nightgowns and robes for women.
If you have no luck with stores in your area, search for these lighter nighties on the internet, or contact Lanz of Salsburg directly.
Certain brick-and-mortar stores have a special relationship with Lanz and often offer nightgowns sleepwear at promotional pricing. These retailers include the Vermont Country Store, Sierra Trading Post, Macy's, Lord and Taylor, and Nordstrom.
Auction sites like eBay clothing are another tremendous resource to consider, particularly if you are searching for vintage lingerie that is no longer in current production.
Lanz also produces an extensive line of girls nightgowns and childrens sleepwear that is perfect for the child or adolescent on your gift list.
Fans of such books as the "Little House on the Prairie" series and the "American Girl" novels will have a particular affinity for these girls nightgowns, since they so closely mirror the aesthetic of the sleepwear worn during those time periods.
For a charming holiday gift, package a nightgown with a pair of fuzzy flannel slippers.
A thickly quilted womens robe (or one crafted of double-layer flannel) is the ultimate luxury addition to such a gift package, and will be appreciated for years to come!

Leave Lanz nightgowns and return to night gowns

Leave Lanz nightgowns and return to exotic lingerie