Full Figure Push Up Bra Insiders Guide
Types of Bras
---
Full figure push up bra - One of the most popular plus size lingerie styles is the push up bra. Also known as a plus size push up bra, this bra style is designed to enhance the appearance of increased cleavage.
How is this miracle accomplished? Through the magic of great design of course!
The lightly padded bra cups are cleverly angled so the breasts are both lifted and pushed together.
Additionally, most push up bras have discreet inserts made of foam, gel, or even water that mimic the look and feel of natural breasts, and of course further enhance cleavage.
Some pushup bras have small removable foam inserts called "cookies" or "petals". These versatile brassieres are great because they give you choice to add or remove additional padding for your outfit.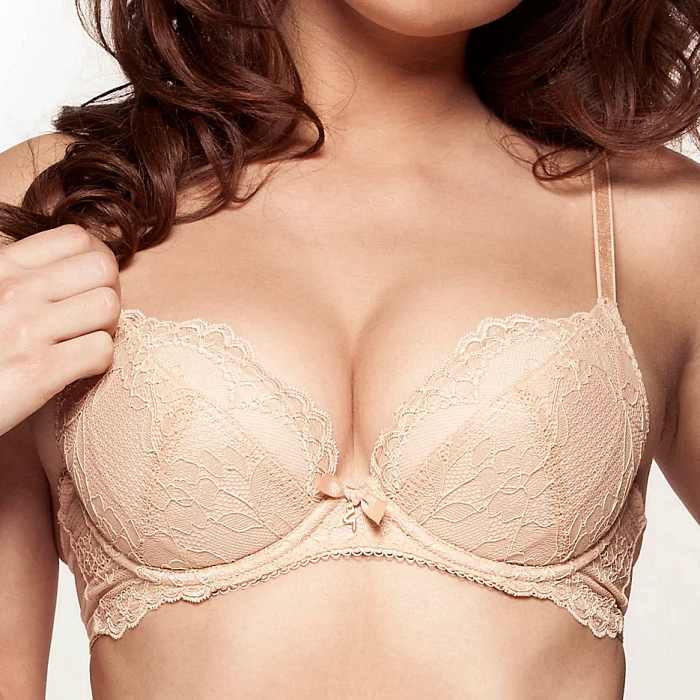 So, in effect you are able to control your cleavage. Not bad for a simple brassiere.
Padded push up bras also tend to have a plastic or metal underwire that provides support and structure.
Remember to look for push up bras that are lightly lined with a flexible and soft underwire for maximum comfort.
Adjustable straps that are soft and non-binding will ensure you look great and love the lingerie you're in!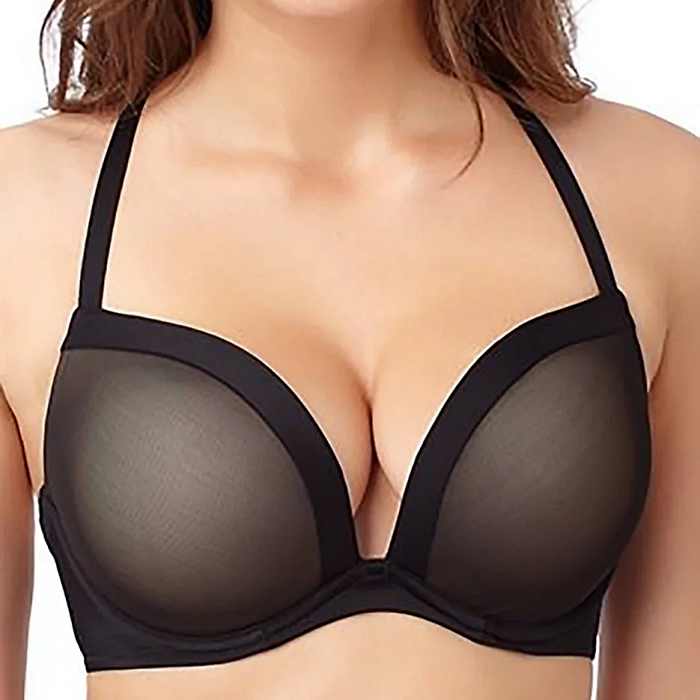 HerRoom Lingerie We Buy For Ourselves
Related Articles - Womens Bras
---
Types of Bras - A comprehensive intimate apparel guide to some of today's most popular bra styles.

Bra Size Calculator - Finding the right bra size has never been easier with our easy 3 step guide. Check it out and you'll see why.

Plus Size Demi Bra - Demi cup bras are the perfect choice for your low cut tops, dresses and outfits.
Wear a demi cup bra underneath nearly anything when you're ready to add some va va voom to your lingerie wardrobe.


Exotic Sheer Lingerie
- Shopping for a full figure push up bra and sexy intimate apparel it may seem a little overwhelming at first. Not to worry, with a few basic lingerie tips, you'll be an expert in no time.
Sheer Lingerie
- Today's chic sheer bras, sheer panties and intimate apparel come in an amazing array of demure to sexy styles, shapes, sizes, colors and soft luscious fabrics to please even the most discerning lingerie diva.
Open Thong
- There is a yummy variety of different thongs, tangas, g strings, t strings, low rise, bikinis in gorgeous satin, silk, lace, mesh, and and so much more to choose from.
Sheer Bikini
- Don't know the difference between sheer bikinis and low rise panties? What about a sheer thong vs. panty brief? Click here to find out.
Leave full figure push up bra and return to exotic lingerie