Warm Winter
Flannel Sleepwear
The Cosiest Way To Keep Warm!
---
If you've worn flannel sleepwear, like a flannel nightgown or popular flannel pajamas, then you know how soft and comfortable it feels. If not, then you are missing out big time!
Flannel is a favorite warm wear intimate apparel fabric that is often mistaken as a purely winter or cold weather fabric, but it's not.
Although popular flannel nightgowns are thicker than a basic lightweight cotton nightgown or satin nightgowns, they can still be worn year round, as long as they are not very hot.
Flannel is actually a fine cotton that is an ideal ladies sleepwear material because it is comfortable and cosy. The texture is soft and smooth.
And, these night gowns are similar to brushed back satin nightgowns that are worn loosely and not tightly, allowing for lots of freedom of movement for warm and cosy nights.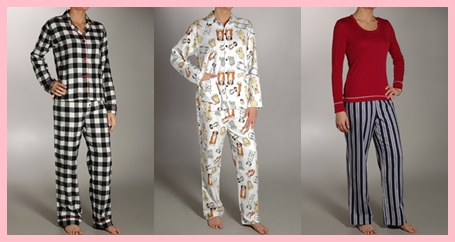 Women usually wear flannel womens pajamas with long sleeved shirts or tops. Some even opt for casual mens nightshirts over their flannel pants or pajama bottoms.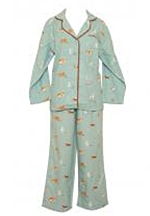 Long nightgowns, ladies pajamas and flannel robes make great gift ideas for loved ones during the holiday season, birthdays and practically any occasion.
A flannel nightgown, flannel nightshirt or flannel robe make great additions to any lingerie drawer. It is an easy and comfortable womens sleepwear choice.
When it comes to colors, the sky is the limit.
Flannel sleepwear offers a multitude of colors and patterns that range from the much loved traditional red plaid to a dizzying array of fun and funky designs in virtually every color of the rainbow.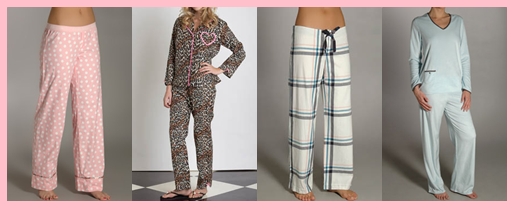 If, your daughter loves Scottie dog pajamas with feet or if your honey is pining for a flannel robe or womens pajamas in a cheetah print, it is available!
Here are some commonly asked questions and answers about this favorite lingerie fabric.
Why are flannel nightgowns, pajamas and robes so popular? Flannel is not only comfortable but also durable and practical to use.

As a cotton sleepwear style, no matter how much you toss and turn, there is little or no wrinkling.

With long wearing long nightgowns, womens pajamas, etc., there is minimal shrinkage and they wash very well.

It is a no fuss fabric.

Flannel is quite thick. Doesn't it feel stuffy to wear?

On the contrary, flannel especially as ladies sleepwear feels really good on the skin. Unlike wool, it almost never feels itchy or dry.

There is a soft and warm feeling in wearing flannel nightgowns, flannel pajamas, and flannel robes.

Ohhhh…, you can even wear it all day long!

Try hugging a person wearing flannel and you can feel the warmth and softness radiating from the clothes.

It makes hugging even better!



Why is flannel sleepwear recommended for winter? What makes it special?

It has the best nightgowns and sleepwear for the cold season because the fabric keeps the heat close to the body.

Getting out of bed and doing away with the comforter will not be as bad because the flannel nightgown (or flannel robe) will keep you cuddly warm.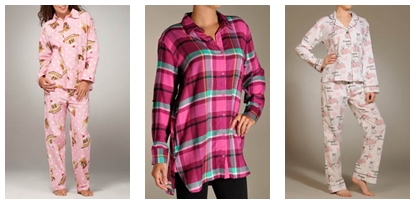 Related Ladies Sleepwear Links
---
Plus Size Robes

White Nightgown


Leave flannel sleepwear and return to exotic lingerie