Flannel Nightshirt:
Advantages & Disadvantages
Warm & Cosy Flannel Nightshirt,
Night gowns & Flannel Sleepwear
---
A flannel nightshirt is one of the best ways to keep toasty warm on cold winter nights. In the realm of sleepwear, nothing makes the cut for comfort and style the way this flannel sleepwear does.
Womens sleepwear is available in several styles, from the classic womens robe, to womens pajamas and of course the sleepwear standard, night gowns.

But, when it comes to women's nightgowns, you can never go wrong with flannel.
When shopping for flannel nightgowns there are a few pros and cons to consider.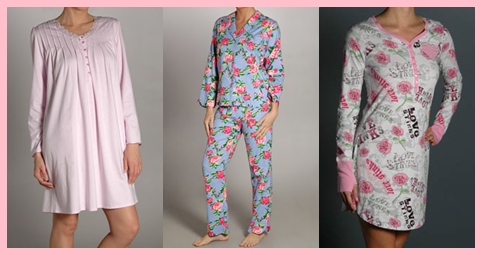 HerRoom Lingerie We Buy For Ourselves
The Advantages of Flannel Sleepwear
---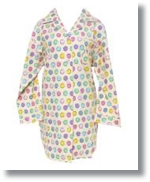 Keeping warm – flannel is a soft and densely woven fabric that is incredibly warm and an excellent choice for the cold winter months.

Originally made from wool, today's flannel nightgowns and intimate apparel is made of thicker flannel cotton blended fabric.

A variety of styles – although the most popular print is plaid, flannel nightshirts have evolved into more vibrant hues and fun patterns.

From full length to knee length, this womens sleepwear also comes in various lengths that range from above the knee to full length. Long nightgowns with full sleeves are the most popular styles for colder climates.

Low-maintenance – cotton flannel is easy to care for and has a reputation for ladies nightwear that is wash and wear.

Follow the care tag, which usually recommends hand wash or the lingerie setting on the washing machine.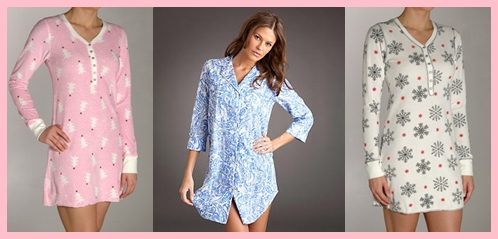 The Disadvantages of Flannel Sleepwear
---
No Stretch - Since flannel is a woven fabric that does not contain spandex it does not stretch.

This may be uncomfortable if you are used to soft and stretchy lingerie and intimate apparel.

Seasonality - Thick and heavy flannel fabric may just be too warm and overwhelming during hot nights.

If this fabric is too dense or warm you may want to stick to lighter fabrics such as lightweight cotton, satin or silk.

Not so sexy - a flannel nightie doesn't exactly have the reputation of exotic lingerie. It is more functional than come hither.

But you can look more stylish by choosing lighter colors and nightgowns with pretty eyelet trim at the neckline and cuffs.

Flannel sleepwear, nightshirts, nightgowns and womens pajamas are the warmest loungewear and womens sleepwear to slide into on those cold winter nights.
Opt for cosy styles that you'll love to wear so you can enjoy the warmth and comfort of flannel.


Leave flannel nightshirt and return to the exotic lingerie