First Training Bra Tips
Not sure how to choose a first training bra when bra shopping ? No problem, I'll show you how in 5 easy steps!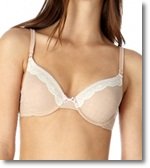 Shopping and choosing a first bra is a big step in growing up, a rite of passage for young girls.
And even by the time she reaches 90, every woman has a few fun and heartwarming first bra stories to remember.
Depending on how quickly a girl's body matures, girls from the age of seven or eight may need a training bra while others may wait a few years until they reach their early teens.
Since little girls mature at different rates there is no "right age" for a training bra.

First Training Bra

Step One - Plan to spend some time together...don't rush. Make it a fun-filled relaxing day and have lunch together.
Reassure her, and explain that the changes in her body are normal and a training bra is something to look forward to as part of growing up. Talk about it as a positive experience.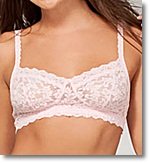 Step Two - Getting the right bra fit is very important. For more sizing tips see our first bra guide and bra size calculator. Choose a lingerie store or a large department store with a lingerie section.
Most have consultants who can measure bra sizes. correctly, and show her how to choose the right bra styles for her size and frame.


---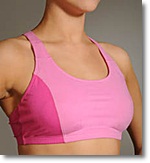 Step Three - It's a good idea to explain the basic types of bras and what they are for.
Explain the pros and cons of underwire bras, wirefree bras, the backless bra, brassieres, adhesive bras, cotton bras, front closure bras, a teen sports bra, soft cup bras, etc.
The more she understands about styles, fit, and how things work, the more familiar and comfortable she will be with her first training bra.


Step Four - Demonstrate how to put on the brassiere by loosening the straps and slipping the arms through the straps, then leaning forward into the brassiere and fitting each breast into the cups and attaching the hook or clasping the back.


---

Step Five - Encourage her to try on several different
types of bras in different fabrics, so she can find one or two that are comfortable.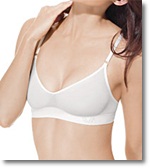 Keeping in mind the young lady's wardrobe, fashion tastes, show her several training bra styles that will get the most use.
Neutral or basic colors like white, beige and cream, and black are very versatile and can be worn under just about anything.
Fun colors like hot pink, blue, and red patterns are very popular and make bra shopping a fun experience.
And, after you've picked out a few training bras, take a few moments to add a couple pairs of panties of her choice to match the brassieres. She'll appreciate the pretty preteen lingerie sets that match and will start to feel more grown up!

Leave First Training Bra and return to The First Bra