Secrets of Cotton Nightgowns
Cotton Night gowns & The Cosy Appeal of Cotton Sleepwear
---
Cotton nightgowns are an extremely popular ladies sleepwear choice for summertime loungewear and sleepwear for women of all ages.
Available in a plethora of styles, colors, lengths, and sizes, these comfortable night gowns are a wonderful way to beat the nighttime heat and stay cool for a restful night, especially if you live in a hot or humid climate. Cotton is a wonderful material for nightgowns sleepwear as it's a natural fabric that holds up well in the washing machine / dryer.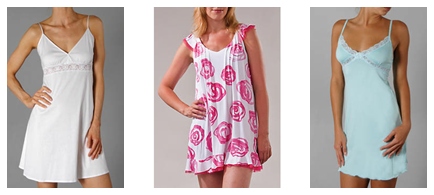 HerRoom Lingerie We Buy For Ourselves
The highly breathable cotton nightgown fabric wicks sweat away from the body, making it a fabulous choice for hot and humid summer weather.
Long nightgowns
in cotton also have a smooth feel against the skin and do not cause the itchy sensation sometimes caused by other natural fibers, such as wool.
In addition to these benefits, cotton womens sleepwear and intimate apparel is an ideal gift choice for vegans, vegetarians, and others on your gift list who appreciate natural fibers that do not come from animal sources.
The resilience of cotton fabric also makes cotton sleepwear a terrific choice for children and teenagers who are a bit rough with their clothes.
Nightgowns, chemises, womens pajamas, and other womens sleepwear styles in cotton hold up well to laundry pre-treatments and stain fighters whose harshness might ruin more delicate styles like silk or satin nightgowns. The coolest nighties are those that are white or another very light color; these colors reflect light and heat, whereas darker sleepwear gown styles will absorb and retain the heat.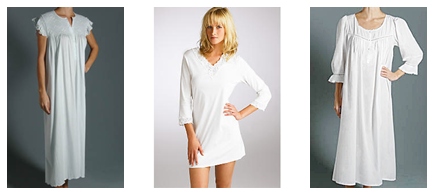 It's possible to obtain unbleached cotton sleepwear that is very light in color; however, a bleached fabric is necessary to obtain a truly brilliant white shade.
White cotton nightgowns that have spaghetti straps or are strapless are the best choice for hot and humid weather, particularly if they will be worn in an un-air conditioned room.
Short, cap sleeved
womens nightgowns
are another option for warmer climates. Hem length is a matter of personal taste.
Even flowing long nightgowns in lightweight cotton will allow plenty of air to circulate around the legs and keep them cool, although many women opt for a shorter, knee-length nighties.
Fans of Victorian era cotton lingerie and intimate apparel will be interested in:
Victorian nightgowns
often feature elaborate lace inserts and mother-of-pearl buttons.
Nightgowns from the Civil War period are often a bit plainer but still feature full sleeves with puffed shoulders and lovely ruffled hems.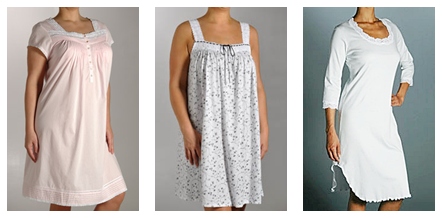 Some of these vintage nightgowns have a length of ribbon woven throughout the neckline that allows the wearer to made dramatic adjustments in the size and shape of the neckline.
Pulling the ribbon taut and knotting it creates a very modest neckline.
The ribbon can also be loosened so that the nightgown reveals the top of the shoulders for a more romantic, seductive look.
Cotton night gowns are able to offer something for everyone; half the fun is finding the particular style that you most enjoy!

Leave cotton nightgowns and return to exotic lingerie