Sexy Plus Size Babydoll Sleepwear
The plus size babydoll is a wildly popular style of plus size lingerie that is flattering on a variety of curvy shapes and silhouettes.
A unique conbination of naughty and nice, the "babydoll" in babydoll lingerie comes from the cut, which resembles dresses worn by many children's dolls.
Often called simply sexy babydolls, these short and sexy night gowns are united by their empire waist, which sits directly below the breasts, and the full cut of the fabric below the waist.

Empire waists are very popular with pregnant women, new mothers, and any woman who carries excess weight around their middle.
But, sexy babydoll exotic lingerie is not just limited to these women.
It is flattering on almost everyone, regardless of size, age, or body type.
Most modern plus size babydoll lingerie styles have spaghetti straps and a somewhat plunging neckline.
The bra cups may be molded in shape or a soft-cup construction.
The sheer lingerie fabric below the waistband is usually something diaphanous, such as chiffon.
With a sheer babydoll, there may be one solid piece, or a split, butterfly-style abdomen that teases and reveals what's beneath.
Most of these short sexy nightgowns have a lower hem that hits the top of the thighs; it's rare for even the longer babydoll nightie styles to hit lower than mid-thigh.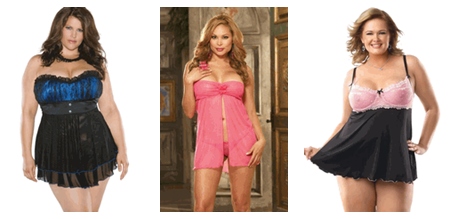 Butterfly babydolls are worn to the greatest effect by women who have flatter tummies; if you fall into this category, pair your babydoll with matching skimpy g string bikinis or tanga panties (and perhaps a pair of spike heels!) for a devastating effect.
silk or satin babydoll that leaves a bit more to the imagination.
Don't rule out the matching sexy low rise panties and heels, though; heels will make your legs look longer and slimmer, and matching panties are always a flirty addition.
If you'd prefer a style that gives you more control and shaping than peekaboo bikinis or thongs, consider a lace boyshort or tanga panty in a matching or complimentary shade.

---
Because most plus size babydoll lingerie is constructed delicately, use great care when washing and storing it. It's always wisest to hand-wash these lingerie undergarment items, using a wash manufactured specifically for delicate lingerie.
Don't subject your babydoll lingerie to the heat and ravages of the clothes dryer; place a clothes drying rack in your bathtub and the allow your chemise to drip dry.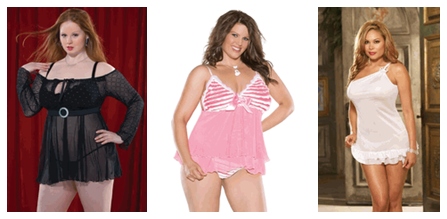 Unless you absolutely cannot avoid it, don't even use the handwash cycle on your washing machine, particularly if your plus size babydoll has lace, ribbons, pearls, rhinestones, or other embellishments that could get caught and ruined in your agitator.
These problems are far, far easier to avoid that they are to fix. Wash this sexy plus size lingerie in cold or tepid water, as hot water may damage delicate fabrics and make dyes bleed.
Be sure to check the care label before you wash your plus size exotic lingerie, as specialty sexy babydolls in silk or satin may require a trip to the dry-cleaners, particularly if they are vintage or hand-painted.
Babydoll lingerie is a true classic, and definitely deserves a place in your lingerie collection. You'll never look back!