Find Your Shelf Bra Style
The shelf bra is one of those sexy bras from the exotic lingerie family that are meant to be shown off and enjoyed.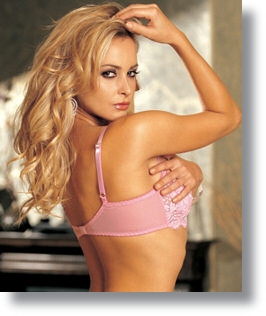 The flirtatious open bra is an open lingerie style that is meant to entice both the wearer and their audience.
While the open bra and other exotic lingerie styles are ultra sexy and tempting, they are definitely not for the faint of heart.
Considered ultra sexy and daring, cupless bras are a favorite of confident women everywhere who love to wear sexy lingerie that is a bit more on the risque side.
What does a shelf bra look like? Basically, they are open bust bras or open front bras that are similar to classic womens bras in shape, style and size.

The open cup bra has the same frame and shoulder straps as a regular brassiere. But this is where the similarities end.

---
Shelf Bra Tips

The entire top area of the breasts is left completely bare or open. The breasts are lifted every so slightly from the frame or shelf where they derive their support. And, of course the word "shelf" is where this bra gets its name from.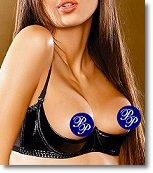 These open cup bras come in a scrumptious variety of luxurious fabrics, sizes and colors to tempt and tease lingerie lovers everywhere.
Just about any fabric can be sexy, but some of the open lingerie materials and fabrics are softer for a nicer feel and fit on one's skin.
Avoid anything that is rough or coarse that will chafe or irritate your skin.
Cheaper fabrics such as nylon and some rigid laces are to be avoided because of this.
Instead concentrate on tried and true intimate apparel classic fabrics like silk, satin, baby fine mesh and of course sexy stretch lace with a touch of spandex or lycra for a nicer fit.
Silk bras and satin bras have a luxurious feel and quiet sexy elegance. While sexy black mesh bras and red lace bras speak of sheer excitement and daring.

Open bust lingerie comes in a wide range of colors and prints - from subdued to flamboyant, the choices are endless.
Some of the more popular shelf bra colors include fuschia (hot pink), red, teal, animal prints, and of course the ultimate sexy lingerie color - classic black.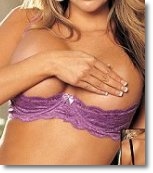 Choose an exotic lingerie color that complements your skintone and hair color.
Here's a quick guidleine -
Blondes look wonderful in icy shades of pale blue, pistachio and baby pink, while brunettes are beautiful in crimson, fuschia, emerald green and royal blue.
Whichever shade you choose, make it your own and love the lingerie you're in!

Related Exotic Lingerie Links
---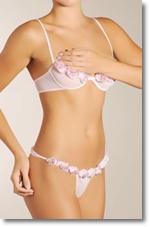 Types of Bras - A comprehensive intimate apparel guide to some of today's most popular bra styles, and what makes them so popular.

Sheer See Through Bras - From sweet and flirtatious to simply seductive, sheer bras are the ultimate in peekaboo lingerie - designed to entice.

Open Bustier - The ultimate in cleavage boosting exotic lingerie, the open bust bustier is a one piece wonder.

Open Bikini - Bikinis are an intimate apparel must have. Somewhere between a brief and a thong, bikini panties provide medium front coverage and full back coverage.

Bra Size Calculator - Don't feel like trudging to the lingerie department to have yourself measured? Or just too shy? Our easy 1-2-3 step calculator will guide you in determining the correct bra size.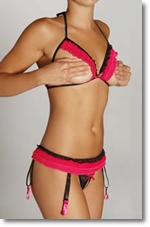 Sheer Lingerie - Discover the beauty of sheer bras, sheer camisoles, sheer chemise, sheer micro bikini panties, sheer nightgown styles and more...

Open Tip Bra - The open tip bra, also known as the open nipple bra (or nippleless bra) is considered to be the most demure of the open bra styles.

Exotic Bras - Whether it's a traditional white sheer bra or sheer mesh bra and matching bikini panty for everyday wear, or a more sensual black lace bra and g string panties for an evening of romance, slipping into exotic lingerie always makes a woman look and feel sexier.

Leave shelf bra and return to the open bra

Beautiful Lingerie