Open Cup Bra Guide
Belonging to the family of exotic lingerie. the open cup bra is one of the most sensual exotic bras available today and guaranteed to make temperatures rise.
Contrary to popular belief, sexy open bra styles are not all the same, and vary from slightly risque to va va voom.
Previously only worn by exotic dancers and naughty girls, today's open bras and matching panties are available in a multitude of styles and fabrics meant to appeal to a woman's sense of seduction as well as her inner coquette.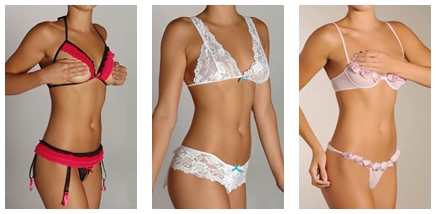 But let's face it, the purchase of open lingerie and ultra sexy intimate apparel is not an everyday affair for all women.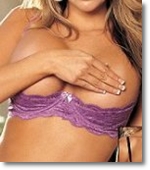 For most women shopping for these sexy intimate apparel and exotic lingerie styles remains strictly for special occasions.
It's great to know that since the choices in intimate apparel have blossomed into an intimate apparel lover's dream, sheer risque lingerie is no longer just one or two sheer see through lingerie styles.
To give you an idea of the variety in choice, here are two of the more popular cupless bras available...
The modest open tip bra, which is also called the nipple bra is a more demure style that shows just a hint of nipple and offers a tantalizing glimmer of things to come.

The open bra is a great intimate apparel style for a woman who wants something sexy but doesn't yet feel comfortable wearing ultra revealing sexy bras...

Here with the open shelf bra you can clearly see that the shelf supports the breasts.
These ultra sexy bras are not recommended for someone with very heavy breasts, as they do not offer good support.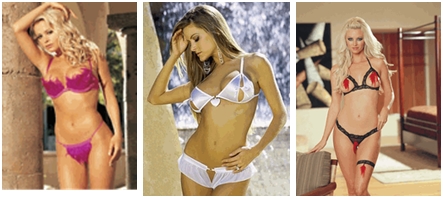 ---
Sheer Exotic Bras - These brassieres offer the best of both worlds...they are available in peekaboo fabrics like lace and mesh with satin detailing, and reveal just enough without being overtly sexy...

Sheer Lingerie - Sheer transparent lingerie is divided into two categories. There are basic yet chic styles that are designed for everyday wear and offer good support. The second group is sexier, and definitely more decidedly for show, or special occasions.



Open Bust Corsets - Luxury and seduction all conveniently rolled into one, the open corset is only one of many open bra lingerie styles available, and is closely related to a similar style, the open bustier.

Open Bust Teddy - A close cousin of the open cup bra, sexy corset and open bustier, the teddy is definitely risque and considered more appropriate for the bedroom than for everyday intimate apparel.

Beautiful Lingerie > The Open Bra