How To Submit A Lingerie Article
Lingerie Article - Love-of-Lingerie.com is a lingerie information and photo rich resource guide for womens lingerie and intimate apparel.
We welcome lingerie articles and photos that fit with our vision and purpose, while enriching our website and strengthening our guest's experience.
Our visitors are looking for specific and helpful lingerie information, advice, and photos of different kinds of lingerie and intimate apparel.
When you deliver beneficial information, help answer a question or solve a problem, viewers are more likely to repay you by clicking on your link to find out more, or buy your product.
Lingerie Article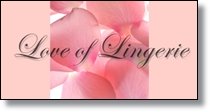 If you are a lingerie or intimate apparel vendor or simply a lover of beautiful lingerie and would like to write an informative article but aren't sure where to start or what to write about, please don't hesitate to contact us.
Examples Of Articles
If you are a wedding gown designer, perhaps send an article on which styles of bridal lingerie are best for different gowns.


If you are mother or parent, you may send an article on training bras or teen lingerie.
If you specialize in plus size clothing, you could send an article on your favorite plus size lingerie styles.


If you are a lingerie manufacturer, you could send articles and photos on what's new and exciting this season in intimate apparel.


If you are a journalist, send an article on lingerie buying tips for men.


If you are a bra expert, you could send articles on the pros and cons of different bra styles and how to get the right bra fit.


If you are a lingerie aficionado and love a particular brand or style, tell us why.

Article Standards
It must be original content. We will not accept anything that has been copied from another website.


The article must relate to the topic of lingerie and intimate apparel. It helps to include pictures. (see below)


We ask that the article be a minimum of 200 words, preferably longer.


We reserve the right to decline any article that we might consider inappropriate.

Submitting Your Article
Please note your article shall be edited slightly, with targeted search engine keywords inserted to drive traffic to the article.

Submitting Photos
About You
When you submit a lingerie article, please include the following information:
Your name.


Your profession.


A little bit about yourself.


Your website URL.

If you have any questions please do not hesitate to contact us.