The Open Lingerie Guide
The Open Lingerie Guide - Having the right sexy sheer bra and panties in your lingerie drawer makes life so much easier, especially when you're putting together that perfect outfit.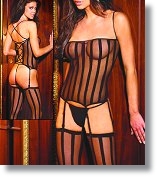 Whether your outfit calls for a sexy black lace open bra and bikini panties, or a more subtle open tip bra in luscious silk with matching thong, having the right bras and panties that match at your fingertips makes dressing simple (and sexy!).
Today's intimate apparel choices range from very simple and elegant to uber sexy and daring, and everything in between.
Click on the thumbnail pictures below for more intimate apparel styles and tips...

---
The Open Lingerie Guide


Open Bra - Open bras, also known as cupless bras are very similar to traditional everyday brassieres; however, they do not have the familiar bra cups that women are used to.
These types of bras vary from shelf bras that expose the breasts completely, to an open tip bra that covers the breasts except for a small opening at the nipple.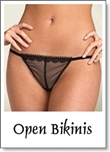 Open Bikini - sexy open bikini panties are a fabulous complement to open bras and make a perfectly matched lingerie set.
Bikini panties come in a great range of panty styles that offer just the right amount of coverage. They provide moderate coverage in the front and back, and sit provocatively just below the hip.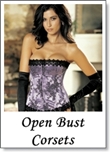 Open Bust Corsets - similar to bustier tops, open bust corsets actually provide a more structured support that includes vertical plastic or metal boning that cinches the waist and slims the torso.
These ultra sexy corsets come in a variety of styles that offer front or back hook and eye or lace closures with sexy embellishments.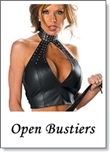 Open Bustier - open bustier tops are similar to open bust corsets, but are far less restrictive and do not usually have any vertical boning.
The open bust lingerie bustier is an all in one teddy and bra combination that's designed to showcase the bustline by pushing it upwards... fabulous for enhancing cleavage.



Open Bust Teddy - the peekaboo lingerie cousin to conventional bodysuits, the open bust teddy is a one piece teddy that lacks the usual bra cups.
This style of exotic lingerie comes in several different options, including the completely braless or shelf bra to the open tip bra, and the traditional open thong to crotchless panty style.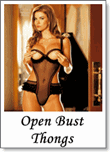 Open Bust Thong - a very risque style of open lingerie that many women love to wear for its easy and comfortable fit, the open bust thong is tantalizing and leaves little to the imagination.
The breasts are displayed to advantage in a cupless bra fashion, and the back is usually backless with a sexy thong or crotchless panty.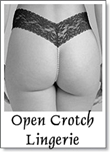 Open Crotch Lingerie - once strictly the provenance of exotic dancers and Las Vegas entertainers, open crotch panties have crossed over and become an integral part of mainstream sexy lingerie.
The advantage is that pieces like g string panties and open thongs can be mix and matched with pretty lace bras and everyday intimate apparel.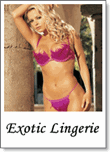 Open Lingerie And - sexy exotic lingerie offers a wonderful selection of open bras, panties, teddies, chemises, night gowns and bodysuits to women wanting to add a touch of pizzazz to their lingerie wardrobe.
The advantage with this intimate apparel style is whether you are feeling a wee bit modest or uber sexy, it allows you to set the mood that you want.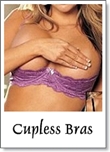 Cupless Bra - also known as open bust lingerie, cupless bras come in a variety of different bra styles that range from super sexy leave nothing to the imagination, to the more modest open cup bras that cover more of the breasts.
Many of these exotic bras are sold with matching panties that can be worn with other lingerie favorites.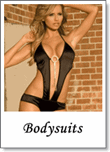 Crotchless Bodysuits - a sexy take on womens bodysuits, crotchless bodysuits are a great way to add a bit of naughty and fun to your casual and everyday clothing styles.
From demure black sheer bodysuits to lace and luxurious pearl thong bodysuits in peekaboo lace, the open lingerie of today offers a style for every occasion.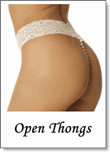 Open Thong - from daring and erotic crotchless thongs to the more sedate open sheer thong, sexy thong panties offer a great range of panty styles to suit every taste and budget.
Hicut sexy open thong panties are a great in preventing the dreaded, VPL or visible panty line showing, and are the open lingerie option for those hot summer nights.




Open Lingerie And - erotic lingerie is not just risque open bras and open crotch panties in one or two naughty styles and colors.
The open lingerie of today offers a tantalizing variety of sheer bras, bikini panties, teddies, and more in a great range of laces, meshes, and sheer fabrics to tempt every demure or daring lingerie diva.