The 10 Most Luxurious Silk Sleepwear Styles In The World
Silk Sleepwear - There's nothing that feels more indulgent than draping yourself in gorgeous silk lingerie. Whether you favor sleek and sophisticated bras and panties, or prefer ultra feminine silk nightgowns, pajamas, chemises, slips or robes, there's a luxurious style to suit every want and need. Here are our top 10 picks for the most luxurious styles.
1. Chemise
Equal parts sexy and elegant, a silk chemise or slip is the perfect style for any woman looking to capture his gaze, or tap into her own sensual side. Choose a satiny silk charmeuse to skim the body for a feeling of pure pampering
2. Kimono

A silk kimono is a special treat than any woman will adore. Slip it on over your favorite nightgown and transform your look into one that's decadent and beautiful.
Choose a statement kimono or robe with embroidery or embellishments for a standout and stunning style.

3. Tap Pants And Camisole

Show off a little more of your curves in this classic combo for a coquettish look that makes any woman feel feminine and pampered.
Look for lace trim and a pretty hue to enhance your skin tone and features.
4. Babydoll Set

Get fancy in a pretty babydoll nightie in whisper soft silk chiffon with fluttered edging and matching panties. A great choice for showing off long legs, you'll love the beautiful way it feels to slip into this silky favorite.
5. Long Nightgown

Channel old Hollywood glamour in a classic long silk gown that accentuates your femininity and has that bombshell quality that both you and your sweetie will love.
Choose a style with a thigh high slit to kick it up a notch, and a pair of heels for a super glam look.

6. Nightshirt

Not all silk sleepwear needs to be sexy or skimpy.
A nightshirt in ultra-soft silk jersey is the perfect sleepwear when you're looking for a chic and comfortable way to indulge in luxury.
Keep your look both relaxed and special in this staple style that will feel like a sinful indulgence every time you slip it on.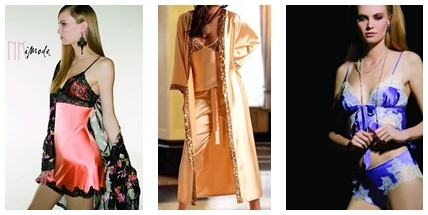 7. Silk Sleepwear Combo: Shirt & Boyshorts

Combine a fuller coverage top with elegant lace boyshorts for the best of both worlds. You'll love the pairing of beautiful fabrics and the way they contrast masculine and feminine styles for a look that both you and your beau will adore.
8. Caftan

Take your love of silk sleepwear to beautiful heights when you drape yourself in a luxe caftan.
You'll love how this lavish style easily combines glamour and comfort as soon as you slip it on. Turn any evening into an elegant affair when you spoil yourself in this stunning silk lingerie.
9. Menswear

Yes, pajamas can be luxurious!
Choose menswear style pajama pants and a button-up shirt in luxurious silk and you'll fall head over heels for the classic and chic look and feel.
This style is the flip side to the skimpy sexy nightie and more suited for relaxing at home.
So, spoil yourself by slipping into this style earlier in the evening, and keeping them on while savoring your morning coffee.
Did You Know?

Silk is the number one choice for bridal and honeymoon lingerie? It's a favorite and timeless choice no matter what the season.
10. Silk Sheets

Though not technically sleepwear, we had to include this bedtime indulgence. Go for devastatingly decadent when you swap cotton sheets for silk. You'll be counting down to bedtime when you get to wrap yourself in luxury and silky softness.