The Best Silk Sleepwear For Any Mood
Ladies Sleepwear & Silky Sweet Nothings
---
Silk Sleepwear and night gowns are one of the true pleasures that symbolize the finer things in life....the ultimate in luxury sleepwear, sumptuous extravagance, and good taste...
Be it a gift of ladies sleepwear for a loved one or a little indulgence of silk bras and panties for yourself, nothing surpasses the feeling of fine silk lingerie on your skin.
~ Fun Lingerie Fact ~
Did you know it takes more than 200 precious silk cocoons to make one silk brassiere...

The History of Silk
---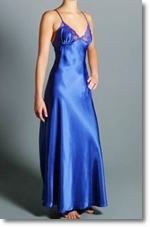 Historically, silk has always been coveted. Until quite recently this
luxury fabric
was only available to royalty, and the rich and famous.
Originating in China, the discovery and production of this delicate natural fibre was kept a closely guarded secret for well over 2000 years...
Traditions and manufacturing skills and secrets were kept within families and passed on from generation to generation.
Luckily, times and traditions have evolved, and thanks to modern textile manufacturing silk and silk variations are now available to virtually everyone.
Luxurious silk draperies, silk bed sheets (the eptiome of luxury) and silk blended fabrics are considered touchstone luxury and are a great part of today's home industry.
And, when it comes to fine lingerie and intimate apparel, silk runs the gamut from 100% silk nightgowns, pajamas and chemises to silk daywear. Womens nightgowns, pajamas, chemises, camisoles and even silk underwear are now lingerie drawer must haves.
Whether it's a silk chemise or a silk / satin blend nightie or panty, almost every women has at least one piece of silk lingerie that she considers her "special lingerie."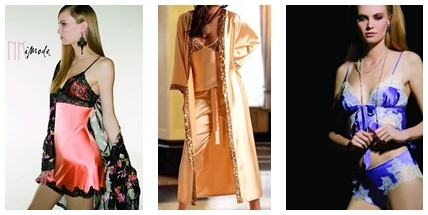 Why Silk Sleepwear Is Popular
---
There is a phenomenal selection of luxurious silk pajamas, nightgowns, robes, slips and
chemise sleepwear
styles and colors to choose from.
Prices range from mid-range to super expensive silk intimate apparel that can cost several thousand dollars.
If it's beautiful colors you are looking for, the colors are extraordinary. From vibrant and rich jewel tones to the palest shades, there is a shade to please every lingerie diva.
And of course, silk is the number one choice for brides. Bride lingerie and honeymoon lingerie in silk are a popular choice no matter what season the wedding is taking place.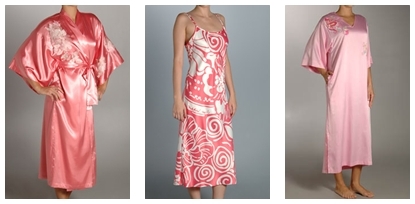 Shopping For Silk Sleepwear
---
Thanks to huge selection of lingerie shopping online - from the comfort of your own home, the selection and availability of
silk underwear
and lingerie is virtually endless.
You can shop to your heart's content from the comfort of your own home! Indulge in some luxury therapy with...
....all lingerie must-haves for today woman.
Be good to yourself...and enjoy the little luxuries that life has to offer... you'll wonder what took you so long!

Related Silk Intimate Apparel Links
---
Satin Nightgowns

Satin Pyjamas

Plus Size Robes


Leave silk sleepwear and return to exotic lingerie