Sexy Sheer Nightgowns You'll Love
Classical Womens Sleepwear in Sheer Fabrics
---
Light as gossamer, sheer nightgowns are a beautiful airy addition to any womens sleepwear collection. When selecting the perfect nightgown there are a host of wonderful lightweight fabrics to choose from.
Once the fabric is chosen you have to ask yourself things like "flowy" or fitted, baby-doll or floor length ...but in the end the real test of a gown is how you feel wearing it.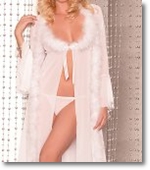 Sheer might mean delicate, but you might be surprised just how many options you have to choose from; which brings us full circle back to fabric choice.
Many women think of the traditional cotton nightgowns or paper thin satin or silk nightgowns when considering a sheer nightgown, but we've come up with a few more interesting options you might consider along with the traditional favorites:
Voile - sweet on the lips and a dream on your body. As a fabric that's made of a variety of natural and man made weaves, voile ranges from affordable to expensive and is always soft and rather fine to the touch.
Aerophane - really jazzes things up a bit with its thin crinkled semi-transparent gauzy look. You can really do a baby-doll gown justice with this choice!
Tulle - this well-known fabric for lingerie undergarment styles like slips, has a lesser-known life as a sweet twist to the common gown. A gown made from this sheer and delicate thin silk can look more like sheer outerwear than bedtime apparel.

Tiffany - not only sounds opulent but lives up to its name, with a light silk like gauzy texture and gracious flowing sheen.
Tarlatan - a wonderful woven cotton fabric that is more on the opaque side. It makes for a sturdy shapely cotton nightdress as the fabric is slightly stiff and controllable.
~ Lingerie Tip ~
Sheer lingerie fabrics are delicate yet sexy and evoke a certain jen ne sais quoi" air of sensuality. Opt for sheer nighties in your favorite colors so you can mix and match them with your sexy bras and panties for an exotic appearance.


Organdie - has always been popular with its natural translucent weave. It is a perfect lightweight cotton fabric that's ideal for those hot summer nights.
Organza - decades ago a heavier version of this fabric was a favorite in the home apparel market. The lighter lingerie version, made of transparent thin silk or nylon, is not only perfect for night gowns and intimate apparel, but is also very popular in many womens clothing lines.

Mousseline - can best be described as "showy". It is a sheer lingerie fabric that might be hard to find in a nightgown but is well worth it, if it's glamor you're searching for.
Mull - lesser known as an intimate apparel fabric choice - but a pleasure on the skin as it has a soft fine feel and is made exclusively of gossamer thin cotton or silk. It is the ultimate in comfort.

Cambric - with its fine thin white cotton or linen pile this is ideal for a casual and still flattering woven cotton nightgown.
Batiste - has whole new life as a women sleepwear favorite. Fine, soft and sheer with a simple weave it is slightly opaque basic that is a timeless classic.
Chiffon - a well known lingerie fabric that continues to be a crowd-pleaser. You really cannot go wrong with this 100% silk and 100% beautiful choice! More affordable options are polyester based.

The craze over sheer nightgowns and nightwear will never fade; both men and women alike just love the sensual look and feel of sheer exotic lingerie.
Take your time, and mix and match your favorite lace bras, panties and lingerie with your new sheer nightgown.
It's a great way to add some spice and excitement to those romantic moments. Your sweetheart will love that you did!

Leave sheer nightgowns and return to ladies sleepwear

Return to exotic lingerie