Sheer Micro Bikini Secrets
Sheer Lingerie
---
A sheer micro bikini is a bikini panty whose waistband naturally rests below your belly button, and comfortably on your hips.
The sides range from a narrow g string to much wider and more traditional.
And, the legs can be high or low cut depending on the style.
Popular with women the world over, tantalizing sheer bikini panties have come to be recognized by many names....
Unlike bras which are rarely called anything else (except perhaps "brassieres" by our mums and aunts), the bikini panty is also known as...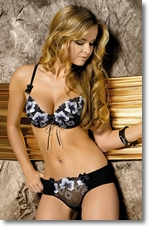 string bikini panty
sheer mesh bikini
open bikini
skimpy g string bikinis
...just to name a few.
So, why are bikinis so popular?
With the explosion in popularity of low rise pants over the past few years, sheer bikinis like the string bikini panty and g string panties have become a comfy alternative to the better known womens thongs.

HerRoom Lingerie We Buy For Ourselves
Sheer micro bikini panties are soft and sexy, and perhaps the most important item a woman can have in her panty drawer to guard against the dreaded visible panty line...also known as the VPL.


Panty Shopping Tips
---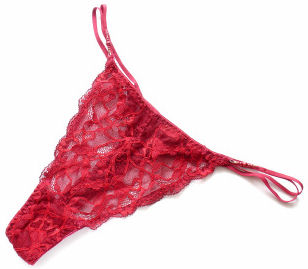 The most important thing aside from choosing a panty style you love, is getting the right size.
It doesn't matter if you have one bikini panty or a hundred g string bikinis, if they don't fit, are riding up in the back or digging into your legs they aren't the right size.
Avoid anything that cuts, or binds your waist or legs, or creates a groove. Go up a size.




Alternately, if you're wearing a bikini panty that bunches or twists, it's probably too large.
Try a smaller size.
What you want is a smooth, taut sheer bikini fit that feels like you're wearing nothing.
If you think you're a size medium in sheer lingerie don't panic if you find a size large actually fits better.
Don't become fixated on sizes, especially when it comes to styles like skimpy g string bikinis. Remember, comfort, & not the size tag are key.
There's nothing worse than spending the entire day yanking at panties and bras that don't fit. If it bothers you, you can always cut the size tag out!


Sheer Bikinis
---
Look for bikini panty styles and fabrics that are soft, stretchy and easy to wear on your skin.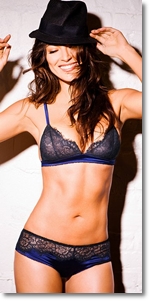 If you wear heavy or tight fitting clothes choose natural fabric blends (like cotton with lycra) that breath and are more comfortable.
Sheer bikinis in heavy nylon & satin are hot and uncomfortable after a long day.
If you have sensitive skin, choose natural fabrics that are less apt to irritate you.
Have a variety of sheer bikini styles in different fabric blends that will coordinate with your wardrobe, so they'll be in your panty drawer when you need them.
Be sure to include some sophisticated (think sexy black lace) tiny g string bikini panties, along with some sweet or sassy sheer micro bikini panties (think sheer pink or white).
Bikini sheer panties and peekaboo lingerie set the tone for what lies ahead...so go ahead and have fun!

Related Exotic Lingerie Links
---
Sheer Bras

Exotic Sheer Lingerie

Sheer Camisoles

Return to sheer lingerie

Leave sheer micro bikini and return to exotic lingerie