Sheer Exotic Bras
And Lingerie Tips
Sheer Lingerie
---
Sheer Exotic Bras - Mystery and seduction all rolled into one. Sheer bras and sexy sheer micro bikini panties entice the most important sexual organ of all - the brain.
With all of its coquettish allure, exotic open lingerie and exotic sheer lingerie teases, tempts, and flirts its way into our hearts and minds.
It grabs our attention and won't let go. Why? The exotic aura of mystery of course.
Burlesque artists from Gypsy Rose Lee to Dita Von Teese will tell you that desire always always starts with the flicker of a tease, the glimpse of lingerie garter belt and who knows it better than they do...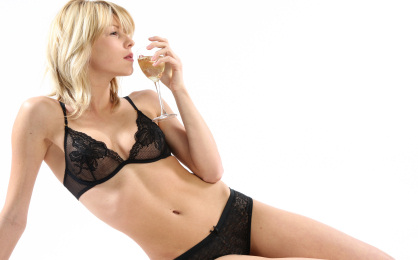 Sheer Bras: Sugar & Spice & All That's Nice
---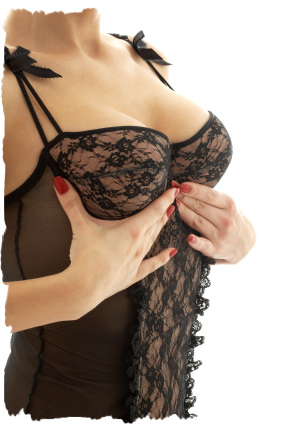 There's nothing quite like an exotic lace or transparent sheer bra (sometimes just called a transparent bra) to spice up your love life, or to make you feel like a lingerie diva.
Matched with a sheer bikini panty to ignite the fantasy, showing just enough, but not quite... whetting the appetite for more.
Sexy sheer transparent lingerie and exotic bras are quite different from your regular favorite Vanity Fair bras, Olga bras and Playtex bras that you wear during the day.
From ultra sexy to sweet and coquettish, there are a multitude of sexy exotic lingerie styles, shapes and sizes of bare transparent lingerie to please the most discerning lingerie diva.
Some sheer bras are designed with little support and are purely to tease and show. Others with lycra offer very good support and and can be worn every day.

Exotic Lingerie
---
Getting the right bra size is the first and most important step to revealing your inner lingerie Goddess.

Finding the right bra size is not too difficult with a few quick tips.
So, if you haven't checked your bra size in a few months, check out our easy three step bra size calculator, and then come back for our final tips.
Ready? Here are a few exotic intimate apparel tips to keep in mind before purchasing any sheer lingerie.
Sheer exotic bras should fit like the skin on a grape. The same is true for your favorite panties...whether you choose g string panties or simply sexy womens thongs you have to be comfortable
Look for soft mesh, or see through nylon fabrics with a hint of lycra for the best fit and look. Lycra gives it stretch.
Avoid sheer see through bras that wrinkles, puckers, or sags....you want a taut fit. The best fabrics are soft meshes or laces...a touch of lycra ensures a good fit.
Related Sheer Lingerie Links
---
Exotic Leather Lingerie
Exotic Lingerie Models
Exotic UK Lingerie
Adam And Eve Lingerie
Lingerie Shopping Tips For Men


Return to sheer lingerie

Leave sheer exotic bras and return to exotic lingerie