Exotic Sheer Chemise Secrets
Sheer Lingerie
---
Think sheer lingerie isn't for you? Think again! A sheer chemise is a wonderful way to go from 0 to va va voom in the blink of an eye.
Chemise sleepwear is great choice that enhances any body shape - from the thinnest gals who pine for curves to the curviest gals who love to show off their curves.
Chemises and slip lingerie cling in all the right places and allow you to maximize your advantages and minimize your problem areas!
And the best part is, sexy knee length slip lingerie and chemises are so versatile, they aren't just for nightgowns sleepwear anymore.

Sexy Chemise
---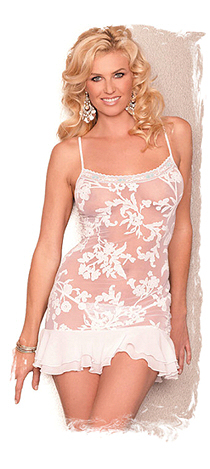 There are a multitude of chemise sleepwear styles and slips available.
Let's take a look at a few popular ones...
Babydoll Chemise

- sleeveless, loose fitting above the knee sheer nightgown.

Most baby doll nightgowns have formed sheer bra cups with a loose fitting skirt that falls between the belly button and hips. Sheer micro bikini panties are usually worn underneath.

This is the ultimate peekaboo lingerie!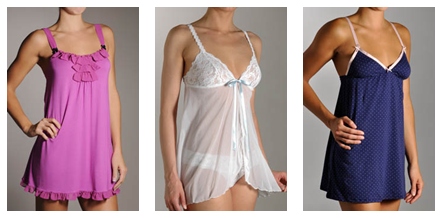 HerRoom Lingerie We Buy For Ourselves
The sheer chemise of today is a versatile lingerie wardrobe basic.
It can be worn under your dresses, suits and skirts during the day, and as a nightie and loungewear at home.
And don't forget sexy slip lingerie for those romantic weekend getaways!
Choose several in different styles and fabrics.

A lovely lacy sheer nightgown and mesh chemises are both whimsical and romantic - guaranteed to pique your honey's interest. And the sophisticated silk chemise and satin nightgowns feel incredibly sensuous on the skin.


Related Sheer Lingerie Articles
---
Sheer Camisoles - a lingerie drawer must have for every well dressed woman.

Sheer Bras - a sexy, sophisticated lingerie look.

Sheer Bikini - a great option for today's low rise pants and jeans.

Sheer Exotic Bras - from balconette bras to sexy open bras, there are a multitude of bra styles for every occasion.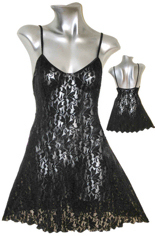 Return to sheer lingerie

Leave sheer chemise and return to exotic lingerie