Secrets of Sheer Camisoles
There's nothing quite as nice as sheer camisoles and sheer lingerie to add a bit of glamor and spice to a woman's life.
Sleek and sophisticated, camisoles and cami sets are both versatile and sexy.
Cami styles like the lace trim camisole, silk camisole, plus size camisole and even the very popular camisole bra are among the most sought after and loved lingerie undergarments.
With such a cornucopia of on line lingerie available nowadays, you can find an amazing array of camisoles from a tank top camisole and bra camisole styles to please virtually everyone.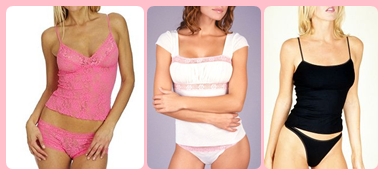 Sheer fabrics to please even the pickiest, from silk and chiffon to nylon blended with lycra and hug-your-curves cool transparent cotton.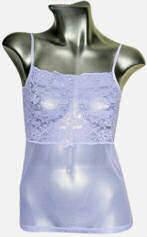 The variety and availability of sexy camisoles has increased tremendously over recent years, making it easier than ever to find a style to fit and flatter your shape.
Spaghetti style shoulder straps with contour hugging styles complement small through plus sizes and are ideal when going for the sexy look under your sheerest blouses.

Traditional built-up shoulders with a round or V neckline tends to be a more conservative style, and a great choice for under blazers, sweaters, as well as on its own.
Camisoles lend themselves well to both inner and outer wear. Many women wear sheer camis over their sheer bras for a sophisticated, layered put together look.
For those who are really daring, the sheer cami can't be beat for a fun-filled, flirty evening out!
Go ahead and layer one or two camisoles over each other...or wear a lace trim camisole under a sheer blouse.
Coordinate with a pair of your favorite dress pants, or jeans with high heels and all of a sudden you're ready to dance the night away...
Lingerie tip - sheerest camisoles colors should always match.
Here are a few basic tips...
White under white and black under black.
Nude under white. Never black under white.
Never white under black.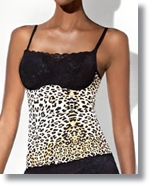 Sheer lingerie is mesmerizing because it's transparent, yet not quite entirely see-through.
It leaves just the tiniest bit to the imagination, making it tantalizing and yummy!
Camisoles for women and lingerie in general are wonderful choices when you want to feel your sexiest.
Even though a piece or two of lingerie may be hidden beneath your clothing, just wearing a lacy brassiere or panties can jump start your esteem and electrify your inner lingerie diva!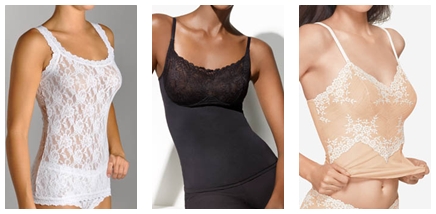 Shopping For Sheer Camisoles
---
Decide on what kind of fabric you want to wear. Sheer materials such as fine-grain silk, satin, chiffon, light-weight stretch nylon lace, and baby-fine nylon lycra mesh are all excellent when choosing sheer lingerie.

Consider adding some other sheer lingerie pieces to your lingerie drawer...sheer silk chemise, chemise in stretch lace, sheer bras and sheer mesh bodysuits are all excellent additions to your sheer intimate apparel wardrobe that you'll love to wear.
Comfort and ease of wear is important when it comes to sexy sheer lingerie. Microfiber is a wonderful new material that comes in a rainbow of colors and feels softer than silk. It's so soft, it's addictive!

Looking for warm wear? Sheer cami synthetic (or man made) materials such as nylon laces and nylon lycra meshes are gossamer thin, yet will keep you warm.

Sheer fine grain cottons are a natural breathable fabric and stretch with your curves.

Decide what bottoms you'll be wearing with your sheer cami. Coordinate and plan your styles and colors for matching sheer camisole sets.

Womens thongs, microfiber panties and tanga panties look fantastic under tight fitting pants, trousers and jeans because panty lines simply vanish.

For longer wear - wash your sheer camisoles and sheer intimate apparel by hand or in a mesh laundry bag...delicate cycle on the washing machine!
Be sure that all hooks and eyes, and snaps and closures are closed before laundering and storing.

Keep Velcro and other abrasive materials away from your intimate apparel. Sheer camisoles are delicate and prone to snagging.
Beautiful Lingerie