Sexy Sheer Bikini Panties
For Any Mood
Sheer Lingerie
---
Don't know the difference between sheer bikinis and low rise panties ? What about a sheer thong vs. panty brief? Or how about tanga panties vs. g string panties ?
And just what is an open bikini anyway? Baffled? You're not alone!
The dizzying array of peekaboo lingerie sheer lingerie panty styles that are available these days is enough to make anyone's head spin.
Understanding the different styles, sizes, and fabric choices in women's underwear can be VERY confusing even at the best of times.
Just when you think you have it figured out, a dozen new panty styles appear in your favorite intimate apparel stores.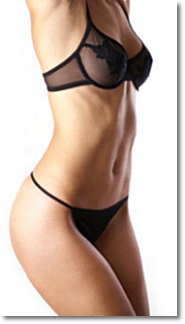 There are so many women's panty styles available, it's difficult to know "who's on first". It's not difficult once you understand the basic styles and shapes. Let me show you how...
With a few quick lingerie undergarment tips you'll find out just how easy it really is.
When you strip away the colorful and creative panty names, there are really only five basic panty shapes you'll need for your panty drawer.
From greatest to least panty coverage they are:
What Is A Bikini Panty?
---
Let's start with quick lesson in panties. Panty styles are divided into a few basic shapes.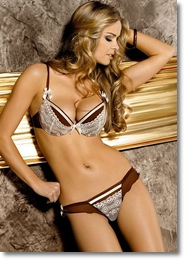 In terms of coverage a bikini panty falls between a thong and a brief panty, and covers the derriere (that's your backside), while sitting fairly low on your hips.
Classic bikini panties cover the back completely, and are lower in the front with the waist band resting between the hip and the navel.
A
sheer micro bikini panty is designed along the same lines as low rise panties, and are ideal to wear with low-rise pants.
Some styles like g string bikinis are designed with g string sides, while other styles such as the sheer micro bikini have wider (more fabric) sides.

Open Bikini Panties
---
And, finally one of the most daring exotic lingerie styles, the one that makes everyone blush is the open bikini.
These sexy panties belong to the family of open crotch lingerie and are a traditional sexy lingerie favorite.
Naughty and sexy, and the ultimate in sensual peekaboo lingerie, sheer bikini panties are available in a vaeriety of fabrics.
Satin and silk panty styles are soft and luxurious on your skin.
Other peekaboo lingerie favorites like the sheer mesh bikini and skimpy g string bikinis are great choices for avoiding the dreaded visible panty line, or VPL.


Exotic Lingerie
---
Sheer Bra - See through bras, sheer bikinis and sheer risque lingerie styles give the illusion of being in sight, but just out of reach of those we share those magic moments with.

Open Lingerie - From sweet and demure, to risque and ultra sexy, open lingerie is incredibly provocative and always makes the temperature rise.

Womens Thongs - Popularized by celebrities such as Madonna, Christina Aguilera, Paris Hilton, Britney Spears, Kylie Minogue, and even Monica Lewinsky, womens thongs have come to epitomize the essence of exotic lingerie.

Leave sheer bikini and return to sheer lingerie.

Leave sheer bikini and return to exotic lingerie.