See Through Bras Insiders Guide
Bra Shopping For Sheer Bras & Lingerie
---
Many women are adding see through bras to their lingerie drawer. These sheer bras show part or all of your breasts, creating an amazingly titillating visual effect that is absolutely devastating when paired with matching sheer panties and/or a matching lingerie garter belt and stockings.
While seemingly a boudoir-only lingerie undergarment, the sheer bra can also have its place in your regular lingerie rotation, provided you follow a few simple guidelines.
The first and most obvious thing to consider when bra shopping is the fabric of your clothing.

Keep in mind, the thinner the fabric, the more likely your nipples will be visible under the fabric.
Some women may find this mild degree of exhibitionism exciting; however, in some locales sheer bras are considered indecent and may create a scandal and/or legal difficulties, so use discretion.
You'll probably be safe wearing sheer see through bras beneath a sweater, sweatshirt, or any shirt with thicker fabric.
If, you absolutely must wear it beneath thin fabric, consider covering your nipples with a band-aid or specially designed adhesive breast petals to create a smooth silhouette.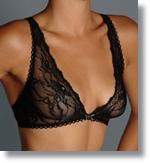 The next point is the color of the brassiere itself; it almost goes without saying that dark bras will be visible beneath light-color shirts.
However, many women don't realize that a white transparent bra will be visible beneath a white shirt!
In fact, white shirt fabric will make a white bra underneath it seem to glow, almost as it if had been placed beneath a black light.

HerRoom Lingerie We Buy For Ourselves
To keep your brassieres invisible beneath your shirts and clothing, choose see thru bras that closely match your skin tone.
This way your bra will blend in with your skin and remain fairly invisible to outsiders.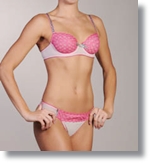 If you're wearing a thick shirt or dress in a brightly-colored or dark shade, feel free to wear sheer bras and panties of your choice beneath.
Wearing sheer exotic bras out in public can be a fun and exciting way to spice up a boring day.
Just the knowledge that you're wearing such a scandalous, piece of exotic lingerie under your regular clothes can put a spring in your step.
For an extra fun element, pair your transparent bra with a sheer bikini panty or a pair of tanga panties in a matching or complimentary shade and fabric.
Leave see through bras and return to bra shopping

Leave see through bras and return to exotic lingerie