The Best Satin Panty Styles
That Men Find Sexy
Womens Panties
---
Satin Panty. With so many to choose from, which sexy panties do men find sexy? The satin panty is a hands down favorite with men and women every time.
Why? The look evokes passion and the feel is soft and inviting. When it comes to satin panties, you have several options that will please you both.
Let's take a quick look at three popular styles.

---
Hi Cut Panties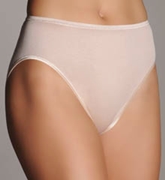 The first option is the high cut brief. Within this group there are variations of this panty that include low-cut and hi rise panties (also known as French cut panties).
The high cut brief is a modest style with a classic fit that offers the best coverage.
What is the attraction? The appeal of the classic brief is its high cut panty that's designed to show off long legs.
Plus, more fabric and greater derriere coverage create mystery as to what is underneath, which many men find sexy.
On the flip side, many opine that the sexy factor just isn't there. Some men liken them to "granny panties", despite the fabric or color choices.

Hicut Panties: The Top 5 Brands

---
Tanga Panties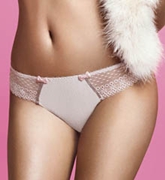 If you want to show off and take a man's attention to the next level, consider the tanga.
This type of panty originated in Brazil, and is defined by the high cut leg and skimpier fit both on the front and rear of the lingerie undergarment.
The derriere is still covered, but much less so than the brief, and the sides of the thigh are almost entirely exposed. This satin panty is more about showing off and less about creating an aura of mystery.
Keep in mind that if you are a first time wearer of tanga panties , then you might find them a bit uncomfortable the first time. Why? Some women report that tangas ride up in the front or the back.

Tanga Panties

---
Womens Thongs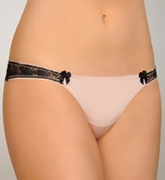 Finally, if you're looking for sexy panties that make a bold statement then consider the thong. Womens thongs come in a variety of styles and options to suit just about every taste.
The skimpiest are the V string and the g-string. As the name suggests, these panties combine string sides and / or back with very miniscule triangular shaped fabric covering the most intimate areas, while showing off long legs, thighs and the derriere.
Satin thong panties are wildly popular with men and women alike, but for different reasons. Women love thongs because they solve the problem of panty lines.
Men are attracted by the sheer raciness of womens thongs because they leave very little to the imagination. Keep in mind that the wearer has to be very confident to pull off this look.

Womens Thongs

---
If you were to try and guess which style of satin panty a man prefers you might be quite surprised.
Men's tastes in sexy panties and exotic lingerie vary a lot.
Some prefer to see their sweetheart in demure and delicate while others love the look of risque open lingerie.
If, you're not sure, the easiest way is to ask him.
Each style has a benefit to both the wearer and the audience, but on the opposite end there are also things that one may not like about a particular style.
Ask for his opinion and involve him in your choice; after all it's something you can both enjoy together!

Return to womens panties

Leave satin panty and return to exotic lingerie