Plus Size Bustier
Plus Size Bras
---
A plus size bustier is a fitted one piece lingerie undergarment that covers the breasts, extending from the bust to the waist or hips.
Similar to strapless bras this classic intimate apparel style is worn to support and enhance a woman's silhouette.
Akin to a push up bra with molded underwire bra cups, bustiers increase cleavage by pushing the breasts together and upwards.
Bustiers are also great for slimming the waistline, and providing a smooth fitted look.
A bustier is often strengthened with vertical flexible plastic or metal boning for additional support, and a front or back closure depending on the style.
Bustiers like sexy corsets and plus size bras come in a variety of simple and extravagant lingerie and intimate apparel fabrics - satin, microfiber, and lightweight nylon trimmed with lace are always good choices.
If you're wearing fitted or clingy clothing, look for fabrics and bra styles that are smooth and free of any embellishments that may show through.
Additional plus size bustier accessories may include detachable shoulder straps, garter belts and lavish lace closures.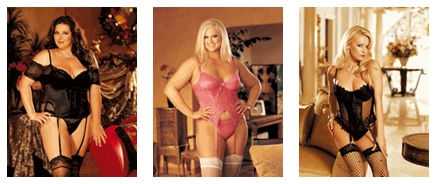 The strapless bustier is the most popular style and has become the preferred shape wear undergarment for formal and evening clothes.
Other favorite bustier tops include smooth satin bustiers for tighter clothing, the classic
bridal bustier for wedding dresses, the sheer bustier, the leather bustier which can also be worn as outerwear, and last but certainly not least the peekaboo open bustier for those sexy exotic lingerie moments.

Related Articles - Plus Size Bras
---
Types of Bras
- A comprehensive intimate apparel guide to some of today's most popular bra styles, and what makes them popular.
Plus Size Lingerie
- Whether you're looking for a plus size sports bra and panties for everyday wear or sexy plus size nightgowns for a special romantic evening, finding what you want is easy with these quick tips.
Bra Size Calculator
- Not sure what of your bra size? Here is an easy step by step guide that shows you how to determine your bra size.
Plus Size Bras
- From basic and practical plus size lingerie to luxurious exotic lingerie, plus size bras come in a variety of different styles and bra sizes to suit every taste, shape, and particular occasion.
Plus Size Push Up Bra
- While push up bras were originally designed for special occasion outfits and evening wear, many women also love this brassiere for daywear.
Leave plus size bustier and return to the exotic lingerie