Open Nipple Bra Secrets
The Open Bra Guide
---
Whimsical and fun, an open nipple bra and matching open bikini panty make a sexy addition to any lingerie drawer.
This sexy lingerie has a provocative look and appeal that adds a dash of naughtiness to any romantic evening or occasion, making it a natural choice for those of us who love peekaboo exotic lingerie.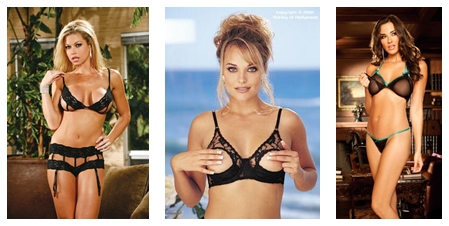 If, you're a lingerie aficionado like me, you probably already know that not all open cup bra styles and sexy lingerie are created equal. Within the family of open bust lingerie there are several types of bras that range from ultra sexy cupless bras that leave little to the imagination to the peekaboo nippleless bra that is more modest.
In the mood for a little sweet and sexy? Then read on, and I'll share a few of my favorite open bra secrets; you'll be a pro in no time!

Open Bust Lingerie Highlights
---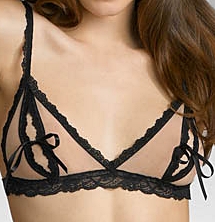 Without a doubt, open tip bras (they're also known as open nipple or nippleless bras) that show off the nipple or tip of the breast are one of the most erotic bras available.
Not so much for what they show, but more for what they don't show.
How? Much like everyday bras, open bras have traditional bra straps and bra cups but that's where the similarity ends.
And, unlike shelf bras that show off the entire breast, open tip bras offer a tantalizing glimpse, while keeping the rest of the breast covered... and keeping your sweetheart guessing!
So, if you're on the shy side or this is your first venture into erotic lingerie, this bra style may be just what you've been looking for.

Looking Great & Feeling Sexy!
---
If this is your first time wearing sheer risque lingerie, it's normal to feel a little uncomfortable for the first few times. Don't let this stop you.
Going an uber sexy look? Opt for an open tip bra in lace or sheer in your favorite color, and pair it with matching g string panties and garter belt.
Lost in a rainbow of colors? Not sure which color is best? Black is sweet and sexy and looks great on just about everyone.
Make sure that you're comfortable and that you don't have to make a lot of adjustments. Best choices: stretch laces and sheer lingerie materials with a touch of lycra.