Secrets of Open Cup Bras
Open Cup Bras - Women who've never dreamed of trying these exotic bras may wonder why they're so special and hold such appeal.
Let's start with a quick 101 on open bras. They're quite similar to regular bras, in that they have traditional bra straps and a bra band.
That's where the similarity ends. The difference is in the bra cups, that leave part or all of the breast exposed, resulting in a very obviously erotic and titillating appearance.
For some women this  is terra incognita. Tempting, but a little intimidating.
They'd never dream of bra shopping in a department or lingerie store that sells erotic lingerie.
But, for those who are too shy or are simply strapped for time, online shopping now offers some beautiful options for adding some spice to their lingerie drawer; open lingerie has never been more popular than it is today!
There are several styles of open cup bras, and several ways that each can be worn.
Arguably the most popular open bra is the type that covers most of the breast, but leaves the nipples exposed. Except for the opening in the middle of each cup, these open tip bra styles are perfectly peekaboo.
Because of this, some women even enjoy wearing open bras underneath their every day clothing because they find it exciting to be wearing such a racy brassiere in secret, or because they enjoy the feeling of having their nipples exposed.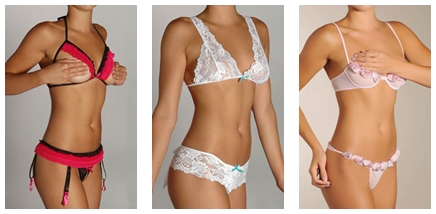 Either way, these bra styles work in much the same way as a normal bra.
If you choose to wear your open bra in public, you must consider the fabric of your shirt; if it is very thin (for example, if you are only wearing a tee-shirt), be aware that your uncovered nipples may become visible through the fabric.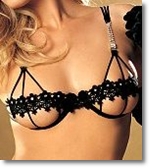 If this bothers you, or would cause problems in the area where you live, consider saving your open bras and lingerie for the boudoir or wearing them only underneath thicker fabrics, such as sweaters.
All open cup bras look best when worn with matching or coordinating panties.
Sometimes, these are sold as a set together with the brassiere; other women opt for a close match in their lingerie collection.


Open Bust Lingerie
---
If you're feeling particularly frisky and adventurous, considering pairing your open bra with a pair of open crotch panties.
As the sexy name suggests, open crotch lingerie lacks a traditional crotch panel, or has a split down in the middle that allows access to the crotch area.

Some women make their own simply by using scissors to cut a slit in their existing underwear.
However, the raciest styles of crotchless panties are often complicated in construction and are usually purchased ready-made.
Some of these may have a crotch panel that can be tied closed with a piece of ribbon, or fastened with buttons.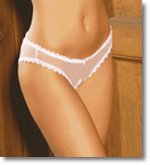 The garter belt and stockings is another excellent look to pair with your open bra.
Choose a garter belt that matches your panties as closely as possible (or matches the bra, if you're not going to wear any panties at all).
If your ensemble is black, consider black stockings; if it's white, consider white, or a shade that matches your skin tone as closely as possible.
All other fabric colors should usually be paired with stockings in your skin tone, although some women do go the extra mile to find red, blue, or purple stockings. Whatever your choice, remember to enjoy yourself and have fun in your new lingerie!