Open Crotch Lingerie Uncovered
Open crotch lingerie may seem a little racy and risque to a many traditional women since there is so little to it, but it doesn't have to be that way.
Once strictly the realm of exotic dancers and the burlesque era, sexy open lingerie and intimate apparel has now become mainstream and very popular, especially with today's beautiful silhouettes and body conscious clothing.
Let's take a closer look at how to add these special panties to your lingerie drawer.

Open Crotch Lingerie Styles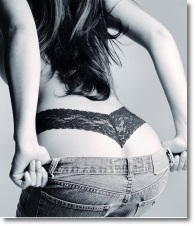 Nowadays, it's easier than ever to explore different panty styles, especially when there are so many lingerie undergarments to choose.
From thong panties to v string panties and completely open crotch panties, there is a plethora of open crotch lingerie to suit the most modest to the most daring woman.
You'll be surprised how a simple pair of bikini panties or a naughty open thong will add a sexy spring to your step and enhance a romantic mood.
Just by slipping on a piece of sexy intimate apparel, you begin to feel sexier and your confidence soars. Together with a fabulous open bra, the right panties can improve your outlook.
The way you feel and carry yourself, and even the way you think. The right lingerie and intimate apparel has the power to transform you.

Panty Shopping
---
Open crotch panties like traditional panties and underwear comes in a large variety of shapes, sizes, fabrics and colors.
Black is the number one color in open lingerie panties. Sexy and seductive, black has a reputation for being sexy and slimming.
Red and white are also quite popular, especially around Valentines day, Christmas and New Years.
Most panties range start at size xsmall and continue to xlarge> Plus sizes start at 1x and continue through 6x.
Keep in mind that open panties may not have the same fit as your everyday panties, so it's important to pay attention to a size guideline if available.
Also, opt for softer, stretchy lingerie fabrics like lace, satin, fine mesh and silks for an easy and comfortable fit and feel.
Whether you want to add a little spice to a big date or just have some fun, do try a pair of open panties...the rear view will thank you for it!