Open Bustier Secrets
Like open bust corsets, the open bustier is fabulously feminine and seductive exotic lingerie that belongs to the open lingerie family.
Unlike corsets that have vertical boning to shape the torso into a curvy hourglass, bustiers are softer and combine the best of comfort with curve appeal.
What is an open bustier?
This popular sexy lingerie style is very similar to a traditional bustier or a longline bra. The only difference is the bra cups are open or very sheer, which is meant to enhance the bustline.
Aside from being ultra feminine and sexy this lingerie style is designed to enhance cleavage by pushing the breasts together and upward. Some super bustier styles even offer removable inserts that can be added to further enhance cleavage.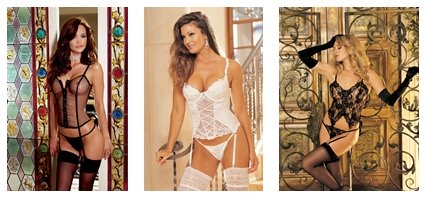 Open Bustier Tips

If, a bustier with open bra cups is too risque you may want to consider a beautiful bustier with an open tip bra.
An open tip style doesn't expose quite so much of the breast and is great for first timers or if you simply want an open lingerie style that's a bit more modest.
Larger busted women who wear full figure bras may need to go up a size, and women with smaller busts who wear petite bras may prefer to go down a size.
If opting for a corset or bustier, from online stores, be sure to read their size charts, ordering information, and return policies carefully, so that if your bustier doesn't fit, it can be easily returned.
If you're purchasing from a traditional bricks and mortar store or a specialty lingerie store, consider trying on a few different styles to get a feel for the look, fit and feel that you want for your silhouette...and most importantly, to decide which beautiful styles inspire you most!